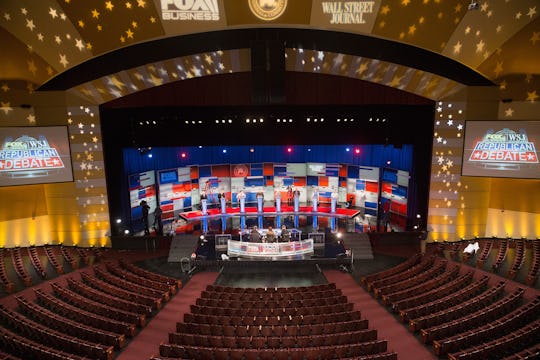 Scott Olson/Getty Images
Who's Moderating The Fourth GOP Debate? Tonight, FOX Business Brings 3 Familiar Names To The Big Stage
If it seems like there's a GOP debate every week, you're not alone. (And TBH, you're kinda right.) We've seen Megyn and co. take on the candidates already, but who are the three moderators for the fourth GOP debate? With such a heavy playing Republican playing field, the two seasoned FOX Business News editors and the The Wall Street Journal editor-in-chief will certainly have their hands full as the candidates face off on economic policy and America's debt.
The two-hour debate will be a shakeup, to say the least. Though previous debates have showcased 10 candidates, it won't be the case for this one. Hopefuls polling 2.5 percent or more in national polls will be invited to the main event, while candidates polling below this (but above one percent) are invited to the 90-minute undercard event, airing at 6 p.m. ET.
As everyone knows, debate moderators can make or break a campaign — and even become a focal point for the night (just ask Megyn Kelly). So before things get under way, let's get to know the personalities who will guide the conversation tonight.
Neil Cavuto
Cavuto is a FOX Business Network staple. He hosts three shows on the network: Your World, Cavuto on Business, and Cavuto, which airs exclusively on FOX Buisness Network. He's also the senior vice president, managing editor, and achor for both FOX News Chanel and FOX Business Network. He's also not one to hold his tongue. Cavuto made headlines in Dec. 2013 for bashing Democrats that use FOX network as a scapegoat. From the Affordable Care Act to the gasoline tax, Cavuto didn't hide that he was tired of the party bringing up FOX in a negative light to cover up for their failures.
"It's gotta stop. It has got to stop!" Cavuto said. "What the FOX are you [Democrats] doing? Trotting out FOX every time you start sweating... Fox isn't tearing down your bridges," Cavuto said. "Graft is. Greed is. No accountability for the spending is. You sleeping at the switch is."
He also gained a ton of attention when he was the first person to sit down with Republican candidate Mitt Romney following his controversial 47 percent comments back in 2012. "You have said that your wording might have been inelegant, but others have said that you just kissed half of the electorate goodbye this election year, that you all but called them moochers. Did you?" he asked. Though some criticized Cavuto for allowing Romney to deflect into a conversation about big government, he claims, "I'm not red or blue," he says. "I'm green."
Maria Bartiromo
Prior to joining FOX Business Network, Bartiromo was known for her tenure at CNBC. She left CNBC in Jan. 2014 after 20 years, joining FOX Business Network. She hosts Mornings With Maria Bartiromo on FBN and Sunday Morning Features With Maria Bartiromo on FOX News.
Being a woman in finance isn't always easy and Bartiromo knows this. Earlier this year, she reflected on how hard it was to be a woman — one of the first — working on the New York Stock Exchange floor. Now she is taking the opportunity to provide more opportunities for women wanting to explore finance. "I feel like it should always be based on performance, and it just so happens the performance of the women on ["Opening Bell"] every morning is outstanding," she told IBTimes. Bartiromo coninued:
We have an all-women cast. I'm proud of that. Because I think that women for a long time have had a hard time on Wall Street. I feel very proud that I have been able to be on the floor of the New York Stock Exchange, grow up in business. But these things don't just happen.I worked really hard in a number of ways, not just learning and making sure that I knew my stuff, but also being able to stand my ground in a sea of suits.
Gerard Baker
Baker has been with The Wall Street Journal since 2009, actively taking over as EIC in January of 2013. He pens The 10 Point, a rundown of the biggest news and scoops of the day. The column covers a wide range of topics, and it's a must-read if you're interested in economics, international relations, or science.
When it comes to economics, these three moderators know their stuff. Here's to keeping the candidates honest on debate night.
Images: Rob Kim/Getty, Taylor Hill/Getty Images, Andrew Burton/Getty Images