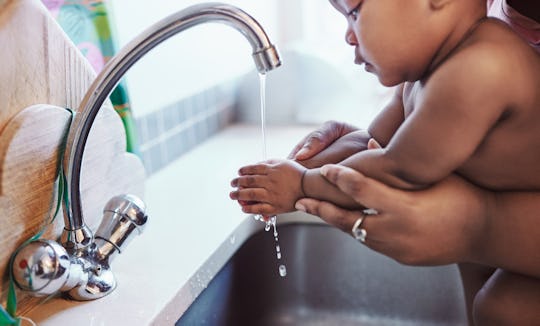 mapodile/E+/Getty Images
These 6 Factors Could Mean You're At Risk For Coronavirus Complications
By now I'm sure you've heard that elderly people and those who are immunocompromised are the most vulnerable to getting a more severe case of COVID-19. Because the word "immunocompromised" is so broad, however, it's really hard to know exactly who's at risk for coronavirus complications. Simply put, a person who is immunocompromised has an immune system that isn't working optimally, and while these people are no more at risk for contracting coronavirus than anyone else, if they do fall ill, it's more likely that they'll experience complications.
"Without an intact immune system, the virus can replicate and overwhelm the body's defenses," Dr. Bruce Moskowitz, an oculoplastic surgeon, tells Romper. A healthy immune system is especially important in fighting an illness like coronavirus, which has no vaccine and no known cure. "The only defenses are avoidance of infection and one's own immune system. It's also the immune system which promotes healing after the infection is eliminated," Moskowitz adds.
Avoidance of the infection is exactly why social distancing is important for all people. High-risk individuals have taken to Twitter (using the hashtag #HighRiskCovid19) to ask that all people, regardless of age or health, take social distancing seriously (as Forbes reported) and it's powerful to read through the tweets and get a sense of just how many people are immunocompromised.
It's important that you keep your immune system in good condition, even if you're not considered immunocompromised (and this requires more than chugging Emergen-Cs). "All patients should try to optimize their general health to ensure proper immune function," Moskowitz says. "Good nutrition, adequate sleep, exercise, avoidance of alcohol, smoking, vaping and drugs are all very important."
Pregnancy also lowers the immune system to a certain degree, "to accommodate for the foreign genetic material in the uterus (so the woman's immune system doesn't attack the father's genes in the baby)" Dr. Niket Sonpal, a New York-based internist and gastroenterologist, tells Romper. The goods news is that "data for COVID-19 does not follow this. According to WHO there is no evidence that pregnant women present with different signs or symptoms or are at higher risk of severe illness," Sonpal adds.
Read on for six factors that may make you more susceptible to coronavirus complications (and note that this is not an exhaustive list).