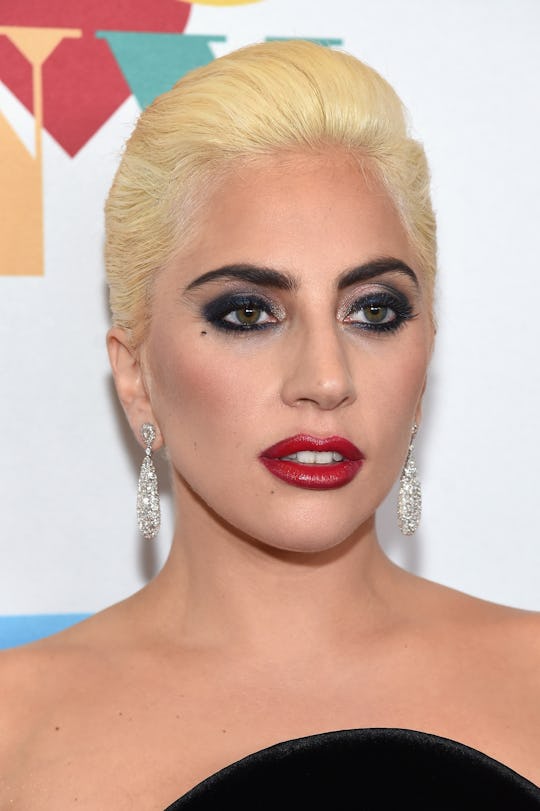 Jamie McCarthy/Getty Images Entertainment/Getty Images
Who's Performing At The 2017 Super Bowl? Little Monsters Everywhere Are Ecstatic
Lady Gaga really is back with a vengeance. Just days after releasing her new hit single "Perfect Illusion," Us Weekly reported that the pop star was in talks to appear at the Super Bowl 51 halftime show. Little Monsters everywhere were ecstatic when the magazine confirmed the news on Sunday. Gaga will headline the 2017 Super Bowl halftime show in Houston, Texas this coming February.
The-30-year-old singer and actress has ended her long hiatus from pop music as definitively as possible. Gaga's comeback to the artform that originally made her a household name has been long awaited by her dedicated fans. "Perfect Illusion" debuted at number 31 on Billboard's Mainstream Top 40 and number 32 on the Adult Pop Songs chart, as well. The superstar performer not only debuted her brand new song, but announced that her upcoming album Joanne will be released on Oct. 21.
Little Monsters immediately began campaigning on social media to have Lady Gaga perform at the Super Bowl 51 halftime show after "Perfect Illusion" was released. Once the news was confirmed, Gaga's dedicated fans flooded social media once again to celebrate the news:
Not much else is known about the big halftime show yet, other than the fact that Lady Gaga is undoubtedly going to put on a killer performance. (When does she not?!?) Her Monsters have already begun guessing which songs Gaga will pick from her amazing discography to perform in front of one of, if not the, biggest crowds of her career. From "Just Dance" to "Born This Way," there's really no way she can go wrong.
While Gaga has never headlined at the Super Bowl, this won't be her first performance at one. The singer performed a rousing rendition of the National Anthem at last year's Super Bowl 50 at Levi's Stadium in Santa Clara, California. She spoke with NFL Network before big performance, stating this was
... one of the highest honors of my career. I get a chance to sing for all the athletes — who have been working so hard their whole lives for this moment — the coaches, as well as the fans in the stand who are waiting for this moment. I think it marks what being an American is all about.
Gaga must be over the moon about signing on to perform at one of America's most prolific gigs. She's joining the ranks of some of this country's greatest performers, including Beyoncé, Diana Ross, Bruce Springsteen, and so many more, all of whom have taken to the stage at the Super Bowl in the past.
Make sure you tune in to the big game on Feb. 5, 2017. Even if you don't like football, Lady Gaga is sure to make it a memorable night.