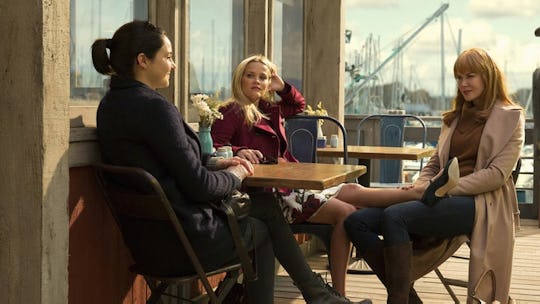 Hilary Bronwyn Gayle/HBO
Here's Who You Can Expect To See In 'Big Little Lies' Season 2
If you, like so many others, have been sitting around crossing your fingers for more Big Little Lies, then you are in luck. The show is officially returning for a second season on HBO and I am jumping up and down with excitement. So who's returning for Big Little Lies Season 2? Not all the major players have been confirmed yet, but I can make some educated guesses. Perry, for example, probably won't be coming back to Monterey any time soon — a fact everyone is grateful for.
At the 2017 Emmys, Big Little Lies was definitely one of the heavy-hitters of the night. The erstwhile Limited Series snagged 16 nominations and 8 wins, not to mention the obsessive devotion of a legion of fans. Series creator David E. Kelley is confirmed to be returning, and has reportedly already written each of the seven episodes, based in part on a story by Liane Moriarty — the author of the book the original series was based on. The series will have a new director, though, and has selected Oscar-winner Andrea Arnold to take charge of all seven episodes, replacing the show's original director Jean-Marc Vallée. So let's take a look at the cast and surmise who's making a return.
Reese Witherspoon
As an executive producer of the series, having optioned the screen rights to the book in the first place, and as an instrumental part in making Season 2 happen, Witherspoon is confirmed to return.
Nicole Kidman
Everything I just said about Witherspoon, but about Kidman instead. This was really a tandem project between the two of them, so it's only fitting that both are definitely coming back for Round 2.
Shailene Woodley
What would this dangerous group of ladies be without young mom Shailene Woodley rounding out their trio? I know Woodley doesn't watch TV herself, but hopefully that won't stop her from acting in TV for the benefit of all of us.
Zoe Kravitz
Every Madeline needs a Bonnie. Learning to overcome petty differences and jealousies was a big part of the character journeys for Madeline and Bonnie. It would be a huge shame if we didn't get to see their friendship form in the second season, which is why Kravitz has to come back, though nothing has been confirmed. Apart from Witherspoon and Kidman, negotiations are still underway for the rest of the Season 1 cast, though most are expected to take part in the second season, according to The Hollywood Reporter.
Laura Dern
Laura Dern was the best part of Big Little Lies. If she doesn't end up returning, then I will riot.
Adam Scott
I'll be honest, there is a part of me that believes Ed's life would be better if he wasn't married to Madeline, who occasionally cheats on him and truly does not seem to love him as much as he loves her. That being said, I'll take more Adam Scott in pretty much anything.
Iain Armitage
Iain Armitage plays Jane Chapman's little boy, Ziggy. It would be weird if Jane came back but her son suddenly didn't appear anymore, wouldn't it? I'd expect to see him in Season 2.
Cameron & Nicholas Crovetti
These adorable boys are named Cameron and Nicholas Crovetti in real life, and play Celeste's twin boys Josh and Max. Seeing as these kids have now experienced more trauma than any child should have to, I'd imagine they will play a pretty big part in the coming action.
Darby Camp
Darby Camp plays Madeline's daughter, Chloe. To be honest, I would probably watch an entire series about Chloe Mackenzie telling it like it is to anyone in her general vicinity. This girl is the greatest and I have to assume if Madeline is back, then she's back as well.
Kathryn Newton
Kathryn Newton as Abigail Carlson was a great foil for her mother Madeline. That being said, I wouldn't be surprised if Abigail is away at college for Season 2, probably working towards a degree that her mother will find highly impractical, so her involvement may be up in the air, but I'll remain hopeful.
Like I said, aside from Kidman and Witherspoon, none of the stars have yet been confirmed for Big Little Lies Season 2. But as long as I get the people on this list (or even most of them), I will be perfectly content.
Check out Romper's new video series, Romper's Doula Diaries:
Watch full episodes of Romper's Doula Diaries on Facebook Watch.