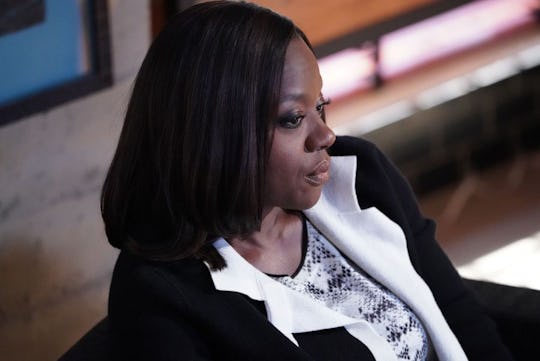 Mitch Haaseth/ABC
Find Out Who's Returning For 'How To Get Away With Murder' Season 4
TGIT is finally back, which means it's time to see what's going on with the law students at Middleton University and their now former professor Annalise Keating. Since the show lost a fan favorite last season (RIP Wes), some are wondering who's returning for How to Get Away With Murder Season 4? Thankfully, it seems that the majority of the cast will be coming back for this season, however, they won't be the same now that they've lost one of their own.
Last season, a lot changed for the Keating Five. Annalise's house was blown up and Wes was murdered by Laurel's family friend on orders from her very own father. (Not cool, dad.) However, Laurel and the rest of the gang don't know that yet. Laurel's also pregnant with Wes' baby, Bonnie and Frank hooked up, and Frank and Annalise's relationship is still a bit of mess. On a happier note, Oliver proposed to Connor, though he didn't get an answer yet and Michaela realized she's in love with Asher, so at least two couples on this show are in a good place... for now, anyway.
So is everyone, besides Wes, really back for Season 4 or will some people be MIA this season? Let's find out.
Annalise Keating
What is How to Get Away With Murder without Annalise? A boring show, probably. Of course, Annalise is back and this season she's on a redemption arc as she attempts to move past Wes' death and focus on a new list of clients.
Bonnie Winterbottom
Annalise's right-hand woman is back for another season, though it's unclear what her relationship with Annalise will be like in Season 4, especially after that interesting kiss they shared.
Connor Walsh
Connor's back and he does not look happy. What could possibly have Connor so riled up? With this show, it could be anything, but it most likely has to do with the fact that Connor turned on Annalise last season.
Oliver Hampton
My favorite tech geek is back in Season 4 and whether or not he and Connor actually get married this season, show creator Peter Norwalk told The Hollywood Reporter their relationship is "just getting deeper." I think I hear wedding bells in the near future.
Asher Millstone
Asher's is back and he'll hopefully still be providing the comedic relief viewers so desperately need on this show.
Michaela Pratt
My personal favorite, Michaela, is back again and no doubt she'll continue to put people in their place if they try to test her. Also, she's taken her relationship with Asher to the next level as they'll be living together this season.
Laurel Castillo
In Season 4, Laurel has a difficult decision to make about her pregnancy and she's quickly running out of time. Additionally, will she continue to look for Wes' killer and find out the truth about her father? Fans will have to wait to see.
Frank Delfino
Frank's role on Annalise's team is still up in the air, as is his relationship with Bonnie, so it'll be interesting to see how Frank fits in Season 4. But he'll be there!
Nate Lahey
Nate and Annalise have had their ups and downs throughout the series, but Nate seemed to always find his way back to her. Could he really be done with Annalise this time? Probably not.
Ophelia Harkness
Emmy award-winner Cicely Tyson returns to How to Get Away With Murder as Annalise's mom and as fans saw last season, she's losing her memory. Based on the teaser trailer, it looks like Annalise and her sister may try to put their mother in home, but Ophelia isn't having one bit of it.
How to Get Away With Murder returns Thursday, Sept. 28 on ABC at 10 p.m. EST.
Watch Romper's new video series, Romper's Doula Diaries:
Check out the entire Romper's Doula Diaries series and other videos on Facebook and the Bustle app across Apple TV, Roku, and Amazon Fire TV.