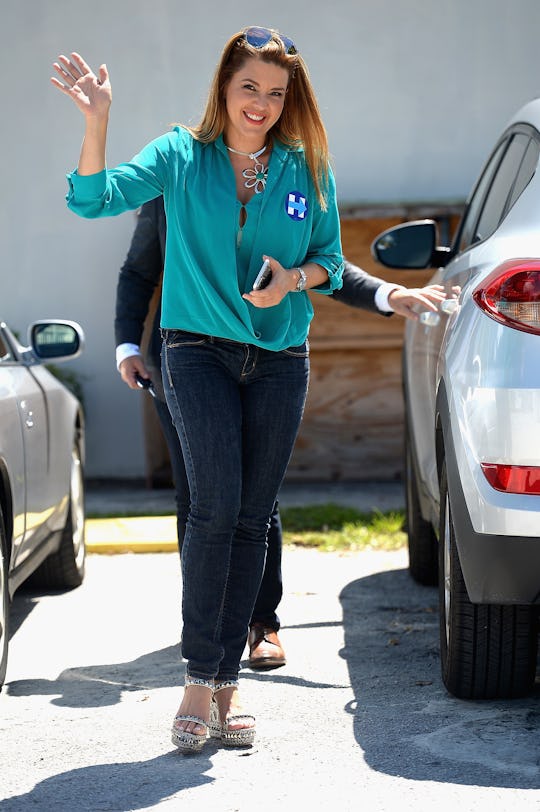 Gustavo Caballero/Getty Images Entertainment/Getty Images
Why Alicia Machado's Alleged Sex Tape Doesn't Deserve Donald Trump's Judgment
During the first presidential debate, Democratic nominee Hillary Clinton slammed Republican nominee Donald Trump for what she claimed were his often-derogatory comments about women — in particular his comments about former Miss Universe Alicia Machado. Trump hit back at Clinton on Twitter early Friday by alleging that Machado had a sex tape and a "terrible" past, arguing that Clinton had been "duped and used" by his "worst Miss U." But Alicia Machado's alleged sex tape doesn't deserve judgment like Donald Trump thinks it does — and not only because, well, she doesn't even actually have a sex tape.
According to People, Trump attacked Machado and Clinton in a series of Tweets, arguing that Machado had a sex tape, and that she was "disgusting." He then further suggested that the fact that Clinton would use Machado as a positive example is a sign that the Democratic nominee has "bad judgment," and shouldn't be trusted by voters. He then also questioned whether Clinton somehow assisted Machado — who is Venezuelan-born — in becoming a U.S. citizen just so she could hold her up as an example in the debate of a woman who was disrespected by Trump. During the debate, Clinton told voters that Trump had publicly insulted Machado over her weight, calling her "Miss Piggy," and "Miss Housekeeping," because she was Latina. Clinton then released a campaign video of Machado on Twitter in which the former Miss Universe claimed Trump yelled at her "all the time," telling her "you look ugly," or "you look fat." Trump's campaign has not responded to Romper's request for comment.
Speaking to Fox News Tuesday, Trump addressed the claim about Machado, saying she was "impossible," and that she'd "gained a massive amount of weight and it was a real problem," but stopped short at referring to Machado by name, according to USA Today. In an interview on The O'Reilly Factor the following day, Trump claimed that he'd "saved her job," after her weight gain:
She had a lot of difficulties and, you know, they wanted to fire her. The company itself wanted to fire her. I saved her job. I'll bet you, if you put up and added up all the time I spoke to her it was probably less than 5 minutes. I had nothing to do with this person. But they wanted to fire her. I saved her job because I said, 'that's going to be ruinous' and I've done that with a number of the young ladies, where I saved their job. And you know what happened? Look what I get out of it. I get nothing.
Trump then went on to argue that beauty pageant contestants should understand that weight gain would be a problem, and that she was pretty much ungrateful for all that he'd done for her:
Say what you want Bill, I mean [the contestants] know what they're getting into. It's a beauty contest. ... Can you imagine I end up in a position like this? This is what you get for helping somebody.
Even those comments themselves are pretty deplorable if you ask me (Machado is supposed to be grateful that he didn't fire her for gaining weight?!), but the fact that he took things one step further to falsely claim Machado had a sex tape and a shameful past make things even worse. According to The Washington Post though, the "sex tape" he appears to be referring to is actually little more than "racy footage" from a Spanish-language reality show Machado appeared on in 2005. And according to Snopes, that footage doesn't even sound all that racy:
[It] is nothing more than some grainy, night-vision footage of a couple of covered figures writhing in a bed, [and] hardly qualifies as explicit. And reality television being what it is, the scene the tape depicts was quite possibly staged or fabricated.
Machado has posed in Playboy, so if Trump finds the notion of a sex tape so offensive, then perhaps that's something he would want to grill her for. Except, what would he then say about the fact that, according to the New York Post, his own wife, Melania Trump, posed naked in a photo spread for the French men's magazine, Max Magazine, in 1996? When asked about the photos, Trump responded by noting that "Melania was one of the most successful models," and that the pictures in question were taken before they met, adding, "in Europe, pictures like this are very fashionable and common," according to the Post.
But let's also not forget that Trump has made plenty of comments about other women and their worth as sexual objects (or lack thereof). According to The Daily Beast, in an interview with Howard Stern in 2003, Trump discussed how "incredible" and "amazing" Stern's new intern, Julie, was, bringing her on air so that he could speak about her looks on the radio while she presumably just stood there. He then spoke about how beautiful Paris Hilton is, making sure to note that, when he first met her at aged 12 he "wasn't interested," and that his own daughter, Ivanka (who was 21 at the time), was one of the "greatest beauties in the world," telling Stern:
She's 6 feet tall, she's got the best body. She made a lot of money as a model — a tremendous amount. She's considered one of the most beautiful women. And she really is, she's a great beauty.
There's also the fact that, according to The Los Angeles Times, a sworn court document from a 2012 labor relations lawsuit against one of Trump's development companies, Trump requested that the hostesses Trump National Golf Club in Rancho Palos Verdes be fired and replaced with girls who were better looking. The club's former catering director, Hayley Strozier, declared in the document that Trump's comments even led them to specifically schedule good looking hostesses to work when Trump expected to be around:
I had witnessed Donald Trump tell managers many times while he was visiting the club that restaurant hostesses were 'not pretty enough' and that they should be fired and replaced with more attractive women. ... Later, he made these comments less frequently because the club's managers [changed] the schedules of our employees so that the most attractive women were scheduled to work when Mr. Trump was scheduled to be at the club.
The "bulk of the lawsuit" was settled in 2013, according to The Los Angeles Times, and the golf course did not admit any wrong doing. When asked for comment about the case, Jill Martin, a lawyer for the Trump Organization, told the Times, "we do not engage in discrimination of any kind and have always complied with all wage laws, including by providing our employees with meal and rest breaks."
More than anything though, the theme that appears to run through all of the above comments Trump has made on record about women, is that Trump doesn't seem to understand that women aren't just objects on which he can cast his judgment. Machado — as well as the golf course hostesses, Ivanka, Paris Hilton, and Howard Stern's one-time intern, Julie — are all actual people, actual real, live humans, with thoughts and feelings and rights and opinions that matter. Their weight or looks or outfits are none of his (or anyone else's) business, and even if Machado did have a sex tape, it would still be none of his (or anyone else's) business. And it certainly would not define her as bad or wrong or immoral or disgusting.
By now, in 2016, you'd think that the fact that women are more than sex objects for men to ogle and judge would be something widely accepted and understood. Yet, Trump's comments, and his Twitter attack on Machado, show that, for some men, it really isn't. And if Trump wins in November? It will also be clear that, having respect for women as people isn't even a prerequisite for running the country.