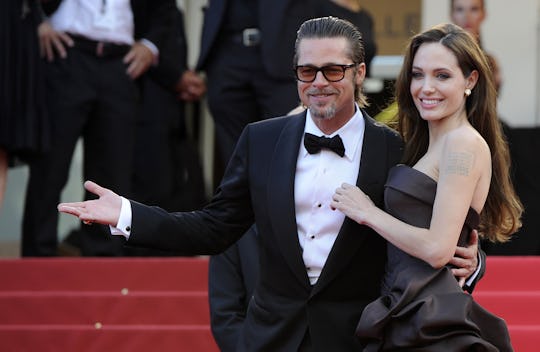 ANNE-CHRISTINE POUJOULAT/AFP/Getty Images
Why Are Angelina Jolie & Brad Pitt Divorcing? The Request Cited Irreconcilable Differences
TMZ reported Tuesday morning that Angelina Jolie has filed for divorce from her husband of two years, Brad Pitt. The couple has been together since 2004 and has six children. But why are Angelina and Brad Pitt divorcing? Early sources told TMZ it may have to do with disagreements in parenting methods, and Jolie cited irreconcilable differences in her divorce papers, according to TMZ.
In the breaking report from TMZ, it was stated that Jolie will be seeking full physical custody of the children, but wishes to grant Pitt visitation and joint legal custody. Sources told TMZ that Jolie listed the date of separation as Sept. 15, 2016 and that she will not be asking Pitt for spousal support.
Jolie's attorney said in a statement to PEOPLE that Jolie "has filed for dissolution of the marriage. This decision was made for the health of the family," adding that Jolie will not be commenting on the divorce and requested privacy for Jolie's family.
In a statement to PEOPLE, Pitt responded to Jolie's divorce filing:
I am very saddened by this, but what matters most now is the well being of our kids. I kindly ask the press to give them the space they deserve during this challenging time.
A request for comment to Jolie's lawyer was not immediately returned, and a request to both Jolie and Pitt's reps by Romper was also not immediately returned.
The couple, widely known by the portmanteau "Brangelina" for the last decade or so, got together during the filming of Mr & Mrs Smith (2005), while Pitt was still married to his first wife, actress Jennifer Aniston. When Aniston filed for divorce, Pitt and Jolie became one of the most high-profile celebrity couples in the world. Jolie was previously married to actors Johnny Lee Miller and Billy Bob Thornton.
Before Jolie and Pitt got together, she had adopted two children, Maddox and Zahara, who Pitt eventually adopted. Together, the couple have four children: Pax, Shiloh, and twins Vivienne and Knox.
Jolie told Vanity Fair shortly after her 2014 wedding to Pitt that their kids were highly involved in the ceremony, which took place in the South of France:
We were all going to have a wedding. There was no cake, so Pax made a cake. The kids made little pillows for the rings, and Knox practiced [being a ring bearer] with an acorn that kept falling off the pillow.
The children also helped Pitt and Jolie craft their wedding vows and decorated Jolie's wedding veil with their own original artwork.
In addition to her work as an actress and director, Jolie is known throughout the world for her philanthropy, particularly advocating for refugees in Cambodia — who she first got to know while shooting Lara Croft: Tomb Raider (2001).
She's also an advocate for breast cancer awareness and research. Last year, after undergoing a partial hysterectomy (and a previous elective, double mastectomy) she wrote an Op-Ed for The New York Times, discussing her decision to remove her breasts and reproductive organs after discovering she carried the BRCA1 gene. Jolie's mother, grandmother and an aunt all died of cancer.
Jolie is set to star in the sequel to 2014 Disney film, Maleficent and Pitt is set to star in the sequel to zombie flick, World War Z.