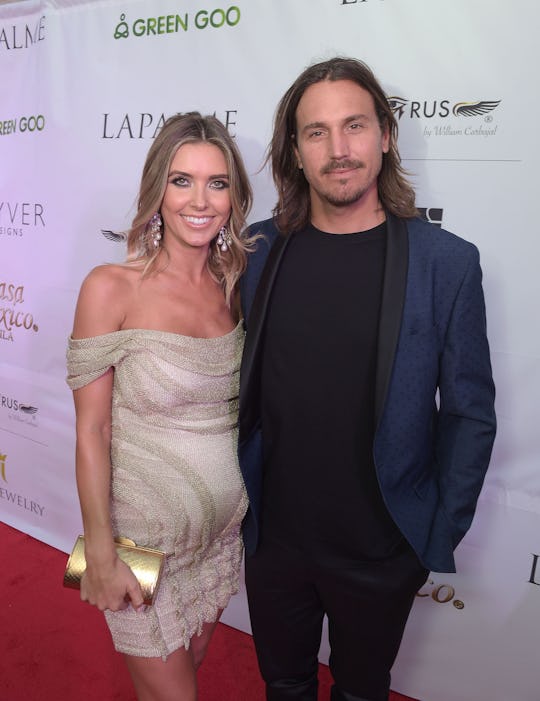 Jason Kempin/Getty Images Entertainment/Getty Images
Here's What We Know About Audrina Patridge & Corey Bohan's Reported Divorce & Restraining Order
On Wednesday, Audrina Patridge filed for divorce from Corey Bohan, according to TMZ. Many Hills fans were shocked by the news, namely because Patridge and Bohan have been married for a little less than a year, and due to the fact that they share a 15-month-old daughter together. So, why are Audrina Patridge and Corey Bohan divorcing?
According to TMZ, Patridge filed a temporary restraining order against Bohan on Monday. Although Patridge hasn't released an official statement on the divorce yet, TMZ reported that the incident that led temporary restraining order is likely why she's filing for divorce. Romper has reached out to Bohan and Patridge for comment on the temporary restraining order.
Per court documents obtained by TMZ, the fighting that led to the temporary restraining order began on Sept. 6 when Bohan allegedly told Patridge she was "f**cked up" because of her childhood. When Patridge went to seek reprieve from Bohan's alleged emotional abuse, Corey reportedly followed Patridge, and he told her, according to TMZ:
Grow some balls and pull the trigger and file for divorce.
In the court documents, Patridge claims she felt threatened by Bohan at this point in their argument, and she decided to file a police report to have record of the incident.
The final straw, however, reportedly happened this weekend at a beauty panel in Orange County, California. Patridge alleges that Bohan harassed her at the event and "demanded" to know where their daughter Kirra Max was. Patridge claims she was so scared by Bohan's erratic behavior at the panel that she began "shaking," according to TMZ.
As for how Patridge and Bohan's daughter, Kirra, plays into all of this, Patridge's representative said, according to People:
Audrina's number one concern is for her daughter and she asks for privacy at this time.
Although Patridge's rep didn't elaborate on whether Kirra was included in the temporary restraining order, TMZ reported that Patridge did meet with child protective services on Sept. 15. As for the custody arrangements of Kirra during this difficult time, according to the California courts system (Patridge and Bohan both live in California), "temporary restraining orders usually last about 20 to 25 days, until the court hearing date." The likely scenario here is that Patridge and Bohan will find a trusted third party to delegate visitation with Kirra until their court hearing.
For fans that have been following Patridge's and Bohan's relationship throughout the years, the news of the divorce and the events preceding it should come as a surprise. Patridge and Bohan first started dating in 2008, and Bohan even appeared on a few episodes of The Hills before Patridge made the smart decision not to involve Bohan in all of the "drama" of reality television.
Patridge revealed, according to ET Online:
Corey was such a good guy, And I was like, 'He's so nice, it's not fair to involve him all of this drama.'
After dating off-and-on for seven years, Bohan proposed to Patridge in November 2015, according to E! Online. Less than a year after the engagement, Bohan and Patridge became parents to their first child, Kirra. Patridge said of Bohan's fathering skills, according to People:
I knew Corey was going to be a good dad because he's good with his nieces and nephews and mine too. That was a no-brainer. He just looks at her with such love in his eyes. He's such a good dad.
After a few months basking in the glow of first-time parenthood, Bohan and Patridge tied the knot in Hawaii on Nov. 7, 2016. As one might expect, the photos of the wedding were gorgeous and Pinterest-perfect.
To many fans, it seemed like Bohan and Patridge were in it for the long haul, especially since they had been together for almost a decade. Bohan and Patridge also regularly shared happy photos of their family on social media, so many people are puzzled as to why things soured so quickly. Of course, it's totally possible that the two have been privately dealing with relationship issues this entire time. Either way, it sounds like Bohan and Patridge are better off apart — Kirra deserves and needs peaceful home.
Watch Romper's new video series, Romper's DoulaDiaries:
Check out the entire Romper's Doula Diaries series and other videos on Facebook and the Bustle app across Apple TV, Roku, and Amazon Fire TV.