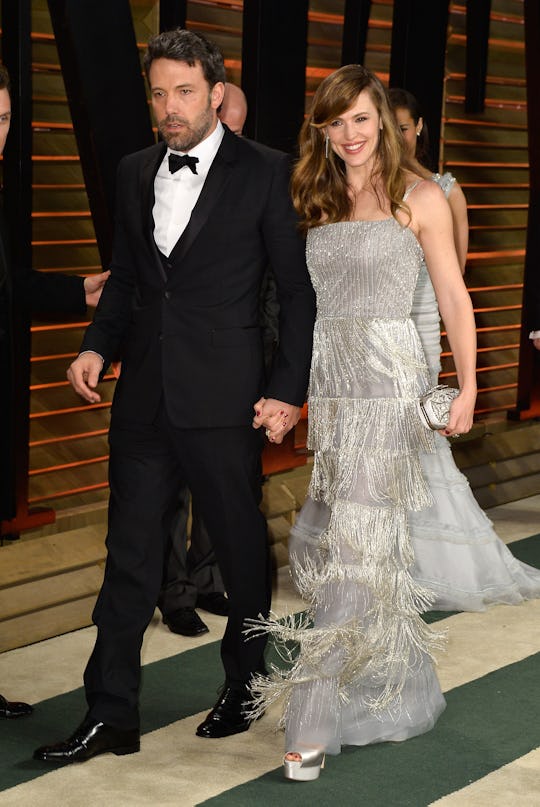 Pascal Le Segretain/Getty Images Entertainment/Getty Images
Why Ben Affleck & Jennifer Garner Deserve Privacy
It was less than two years ago when the world learned that Bennifer 2.0 would be no more. Back in June 2015, actors Ben Affleck and Jennifer Garner announced — to a collective gasp — that they were separating after 10 years of marriage. But on Wednesday, tabloids reported that the pair have called off the divorce. Why are Ben Affleck and Jennifer Garner staying together, though? Sources close to the estranged couple claim they want to give their marriage another shot.
According to People, Garner wants to "really wants to work things out" with Affleck. The pair "love each other," the tabloid reports, and "really, really love" their three kids — 5-year-old Samuel, 8-year-old Seraphina, and 11-year-old Violet. While one source claimed Garner called off the divorce, another source allegedly tied to the actors said it was a mutual decision.
The two 44-year-old actors have talked publicly in the past about their commitment to coparenting their children while they're separated. According to media reports, Garner and Affleck have both said that co-parenting has gone well for them, and that their kids are loved and well-cared for. But that hasn't stopped people from taking to social media to applaud their decision to not divorce as a win for the children.
Other than being an antiquated point-of-view, believing that couples should — and need — to stay together "for the children" is a problematic idea. It perpetuates the notion that divorce harms children, when research has proven otherwise. As Scientific American reported in 2013, multiple studies have found that, while divorce may be painful and stressful for children in the short-term, the long-term effects are quite minimal. In fact, the majority of children of divorced parents grow up to be well-adjusted adults.
This is not to say that there aren't kids who do experience emotional and behavioral problems that stem from divorce. But the truth is, they are the exception, not the rule. According to a 2014 NYU Steinhardt study, children who are exposed to verbal and physical violence among their married parents become maladjusted emotionally. Researchers also found that the exposure to constant fighting and conflict can also affect a kid's neurobiological, cognitive, and behavioral development. In other words, continuing a tense and volatile marriage is far more detrimental to children than getting a divorce.
The lead author, C. Cybele Raver, said in a statement at the time of the study's release:
This study shines a bright light on the importance of supporting parents as they navigate the ups and downs of partnership or marriage. Parents need help regulating their own feelings of anger, frustration, and worry when balancing the demands of work, family, and romantic partnership, especially when money is tight.
Regardless of this information, why Garner and Affleck have decided to work on their marriage is really none of our business. But if you assume that their choice is the "right" one for the sake of their kids, you are actually disregarding the emotional and behavioral health of their children. Parents who stay in a loveless and unhappy marriage often only cause their children more stress and more pain. Because remember, kids pick up on more than you realize. If Garner and Affleck believe this decision is best for their kids, though, that's a personal, private decision, and one that should come with nothing but support — not the comments or opinions of random people on the internet.