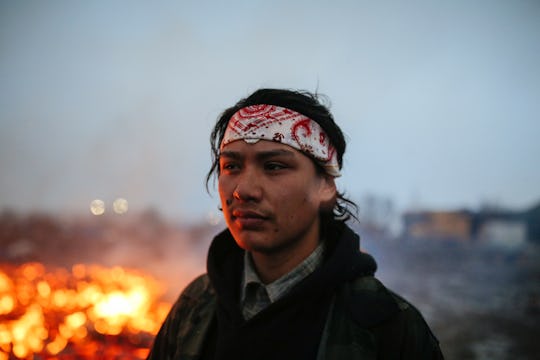 Stephen Yang/Getty Images News/Getty Images
Why Standing Rock Protesters Burned Their Camps
The Oceti Sakowin camp in North Dakota, where protesters spent months camping and protesting the Dakota Access Pipeline, is burning. The last handful of weeks have brought plenty of up and downs for protesters, with President Obama's administration putting a stop to the pipeline's construction in December only to have President Trump's administration kickstart construction once again in January. Many pipeline opponents have vowed not to back down from the renewed threat, so why are Dakota Access Pipeline protesters burning their camps now?
The burning of camp structures comes as protesters prepare to leave the Oceti Sakowin camp, heeding a government deadline to clear out from the federal land by 2 p.m. on Feb. 22, due to the risk of spring flooding in the area. According to Reuters, law enforcement officials have urged protesters to remove anything from the site that could be damaged during cleanup efforts. Praying protesters told the CBC that burning the structures was ceremonial and part of their ritual for leaving the campsite.
"People are being very mindful, trying very hard to stay in prayer, to stay positive," Nestor Silva, a protester from California, told the CBC. "I am not aware of any plans for belligerence."
The Standing Rock Sioux tribe asked protesters to leave the area in December, but around 300 pipeline opponents stayed at the Oceti Sakowin camp. According to Reuters, most remaining activists were planning to stay until the 2 p.m. deadline on Wednesday. "Then people will make their individual decisions about what their level of commitment is," Chase Iron Eyes, a Standing Rock Sioux member, told Reuters on Tuesday. "Some will get arrested."
Other protesters said they would remain until the deadline, then be peacefully arrested. (Morton County deputies are allowed to arrest those who won't leave, according to the CBC, while U.S. Army Corps of Engineers rangers can fine people $5,000 for trespassing.) Once all activists are out of the camp, clean-up will begin — and law enforcement officials have agreed to camp leaders' requests that only Native American crews be used for the process, according to Reuters.
What's next for the Dakota Access Pipeline protesters? New camps have started forming on private land nearby, and many activists plan to move their fight to those areas. However, a judge recently denied two tribes' request to stop pipeline construction, and court documents filed on Tuesday show that the pipeline will reportedly be ready to transport oil by April 1.