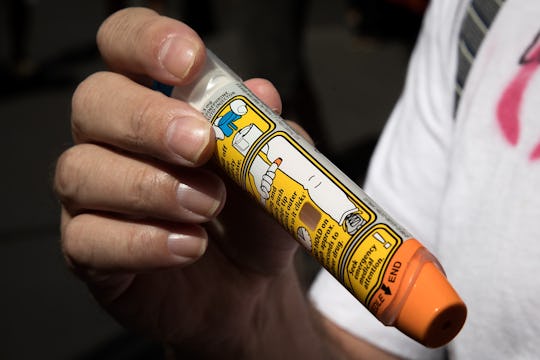 Drew Angerer/Getty Images News/Getty Images
Lawsuit Claims To Know Why EpiPens Are So Expensive
If you or someone you love needs an EpiPen on hand in case of a bad allergic reaction, you've almost certainly noticed that the necessary devices have been costing more and more money lately. Why are EpiPens so expensive? A new suit against EpiPen manufacturer Mylan alleges that the huge price increases are no accident, but rather the product of an illegal racketeering scheme. Mylan did not immediately respond to Romper's request for comment.
It's easy to see that, when it comes to EpiPens, something has changed over the last decade. Back in 2009, a two-pack cost around $100. In 2016, that two-pack EpiPen price had skyrocketed to over $600. The increase is especially concerning because EpiPens are no luxury item — they're a lifesaving tool for reversing severe allergic reactions. And what's particularly surprising, when looking at the $300 per EpiPen price tag, is that experts estimate the devices cost only $30 a pop to manufacture. While insurance can help with some of the costs, some people end up having to pay out of pocket for the whole thing, whether because of high deductibles, because they don't have insurance, or because only one pack is covered but they need extras on hand as back-ups.
Mylan faced a backlash last year when consumers began noticing the price hikes, and wondering where all that money was going. And on Monday, the company got hit with a class action lawsuit claiming that Mylan violated consumer protection laws as part of what the lawsuit calls "an illegal organized scheme to systematically increase EpiPen prices by 574 percent." According to the suit, Mylan allegedly paid large rebates to pharmacy benefit managers at places like CVS Caremark, OptumRx, and Express Scripts, making it so that other EpiPen-like products could not compete — or, in layman's terms, Mylan allegedly gave benefits to companies so those companies would be more likely to sell EpiPens, and not competitors' products.
Last August, amid mounting outrage over the pricing, Mylan CEO Heather Bresch defended the company by saying during an interview with CNBC that the entire health care system was "broken," with intermediaries all along the supply chain taking big cuts and driving up the prices. At the time, Mylan also announced efforts to keep costs down for patients having to pay out of pocket, offering savings cards of up to $300 to keep EpiPens more affordable.
But, according to CNBC, Steve Berman, the managing partner of Hagens Berman, the law firm representing the plaintiffs in Monday's lawsuit, rejected Bresch's explanation, claiming,
Mylan has tried every trick in the book to avoid taking accountability to the millions of people who are living without the EpiPen they need to prevent a life-threatening allergic reaction... Despite the fiction that Mylan has tried to sell the public, and sell Congress, the numbers don't lie — Mylan has been the motivating force behind the jaw-dropping 574 percent EpiPen price hike. Mylan is no victim.
We'll have to wait and see if the courts agree.