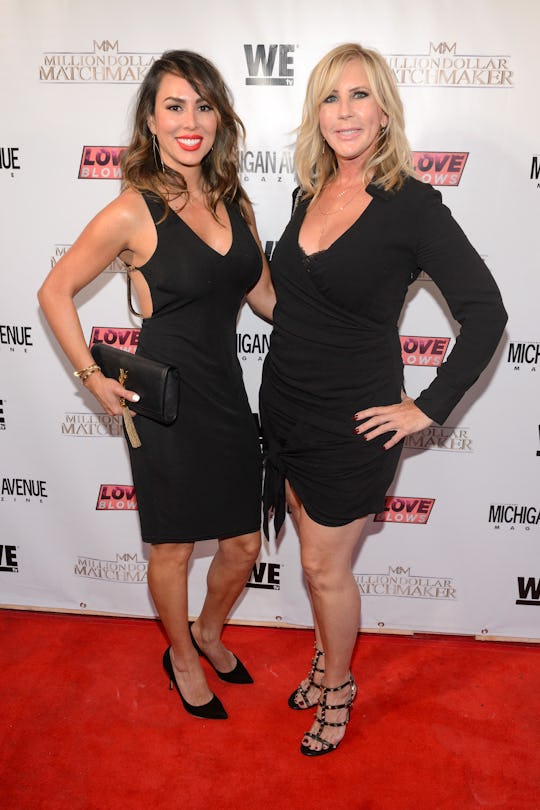 Daniel Boczarski/Getty Images Entertainment/Getty Images
Kelly & Vicki Are On The Outs On 'RHOC'
Relationships can change on a dime on The Real Housewives of Orange County. Though Vicki Gunvalson spent most of Season 12 not speaking to former pals Shannon Beador and Tamra Judge, they're back to being besties this year. And though Kelly Dodd and Vicki were doing well previously, now they seem to be on the outs. But why are Kelly and Vicki feuding on RHOC?
This fight can be easily traced back to its source, which can't be said for every RHOC argument. Kelly was upset that Vicki might have introduced her ex-husband Michael to his new romantic partner. It turns out Vicki's boyfriend Steve is still friendly with Michael, and at a barbecue introductions were made between Michael and another one of Vicki's friends, Teri. They ended up hitting it off. Kelly felt that Vicki had betrayed her by setting Michael up with someone new, even though she herself no longer had any interest in getting back together with him. Vicki insisted she had nothing to do with the set-up and was entirely blameless.
It got worse when Kelly found out that Vicki and Steve went on double dates with Michael and his girlfriend. Kelly was hurt that Vicki never told her any of this, but Vicki didn't think it was her responsibility to do so. She thought it was Michael's job to keep Kelly updated.
Vicki addressed the situation in a blog post for Bravo's website. In her opinion, Kelly was "overacting to create sympathy and drama for herself." She didn't understand why Kelly was so upset when she had been the one who initiated the divorce. Vicki thought the fact that Kelly was dating and had expressed a desire for Michael to do the same meant that she couldn't also be upset about Vicki keeping the news from her.
Vicki offered a little background info too, explaining that Michael and Steve were very good friends, and that she and Steve actually spent more time with Michael than Kelly. Because Vicki was closer with Michael, she was fine introducing him to her friend Teri and didn't think it was "her place" to inform Kelly. Michael and his girlfriend had also asked Vicki not to say anything. She was simply respecting their wishes by keeping quiet.
This has brought up a spirited debate about the rules of "girl code" and what constitutes breaking it. Kelly felt that Vicki not keeping her abreast of what was happening was breaking girl code; Vicki felt keeping her word to Teri was actually upholding girl code, creating a loophole when it came to notifying Kelly of what was happening. Though Vicki seemed to understand better where Kelly was coming from after a chat with Tamra and Shannon in Mexico, she has since reverted to her original position. During an appearance on Watch What Happens Live with Andy Cohen, Vicki continued to express confusion and wondered why it was Kelly's business who Michael dated. She and Steve have gone out on more double dates with Michael.
Kelly told Page Six that her friendship with Vicki was strained as a result of their disagreement, but didn't make it sound like they were feuding. "It didn't ruin our relationship but it put a big, huge ding in it," Kelly said. "I'm not as close to her. She doesn't invite me over to her house anymore like she used to."
Kelly felt that Vicki was "kinda more on the Michael side" as opposed to being on Kelly's side. The tension between them looks like it will continue throughout Season 13 if it's still something they're dealing with offscreen, but hopefully a group hug at the reunion can help both women make amends.