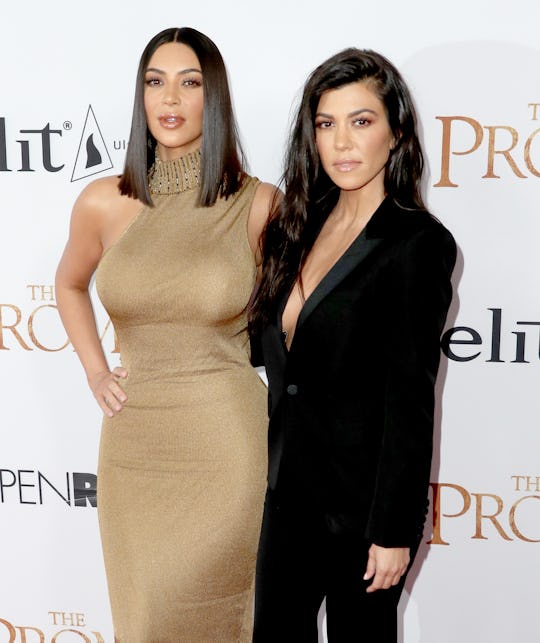 Frederick M. Brown/Getty Images Entertainment/Getty Images
This Is The Deal With Kourtney & Kim Kardashian's Major Blow Out
Every family has a little drama — but not every family has their drama aired for all to see in a reality TV show like the Kardashian family does. Sunday night, Keeping Up with the Kardashians premiered its 15th season — and the debut episode was even more drama-filled than usual. A huge fight went down between sisters Kourtney and Kim, and the animosity quickly continued on Twitter. So, why exactly are Kim and Kourtney Kardashian fighting? Here's everything known about their feud so far.
The premiere episode revealed that the drama between the sisters started way back during Christmas season, when Kim was trying to organize a Christmas card photoshoot for the entire family, Refinery29 explained. All was fine until Kim changed the time of the photoshoot, according to Refinery29. Kourtney complained to Kim and their mom Kris about the schedule change, saying she wanted to spend that time with her three kids, People noted.
Instead of calmly trying to sort out the issue, Kim told Kourtney she should sit out of the shoot, and she insulted her looks. "No one wants you in the f—ing shoot. Get the f— out of here and go," Kim told Kourtney in the episode, according to People, and as seen in the episode's trailer. "Maybe if you had a f—ing business that you were passionate about then you would know what it takes to run a f—ing business but you don't, so don't even act like you know what I'm talking about," Kim added.
After Kourtney left the room, Kim told Kris and Khloé, who were both present for the argument:
I need Kourtney to not be so f—ing annoying with a stick up her a— like she f—ing runs this s— because she doesn't. She's the least exciting to look at.
Kourtney was understandably upset about Kim's comments when she heard them. Later in the episode, she said, according to People:
I'm not here to be mistreated by my f—ing bitch family. Kim saying that I'm the least interesting to look at — who even speaks like that? You don't say things like that. You guys just have really different values than me. I choose to be a mother to my three kids. I'm not here looking for another job. I already work enough — more than I would like to.
While Kourtney was watching the episode, she live-tweeted about how painful it was to relive the fight.
Kim fired back at Kourney on Twitter, explaining that being a mom was also her priority — but that doesn't mean she isn't allowed to have a career as well.
Unsurprisingly, Khloé wound up getting involved in the Twitter war. A fan tweeted at her asking whose side she was on (Kim's or Kourtney's), to which Khloé responded that she just wanted peace.
However, Kourtney wasn't buying it, and the sisters continued to bicker on Twitter.
Evidently, they all did want to get into all this on Twitter.
Dispute aside, Kourtney and Kim cleared up that they and Khloé are all on good terms with each other.
The gals also quickly cleared the air with some jokes — unfortunately, this fight put a damper on Khloé's workout plans.
All that being said, Kim hinted that future episodes this season will continue to chronicle their fight.
And Kourtney hinted that this season will show "the Kourtney who has feelings."
Looks like this season of Keeping Up with the Kardashians will continue to bring the drama. I kan't wait.