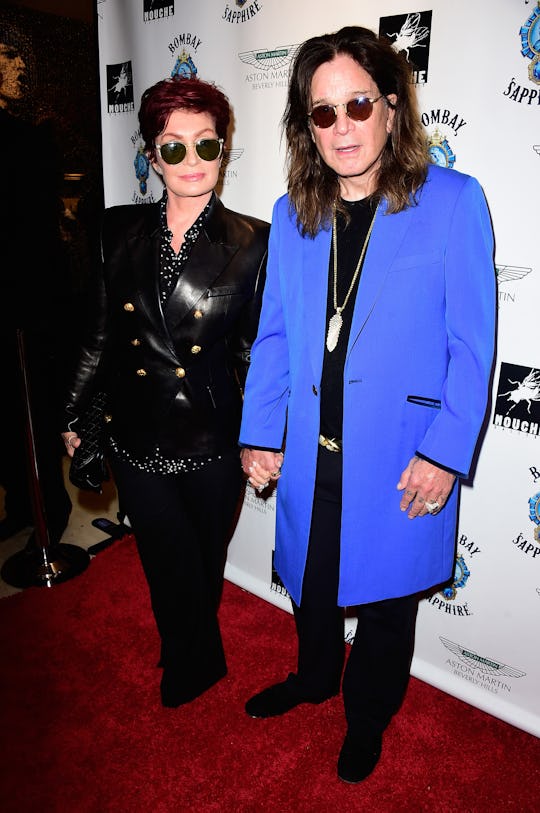 Frazer Harrison/Getty Images Entertainment/Getty Images
Why Are Ozzy & Sharon Osbourne Divorcing? Rumors Of Alleged Infidelity Are Rampant
Brace yourselves, all you who hold fond memories of MTV's The Osbournes. After 33 years of marriage, Ozzy and Sharon Osbourne are getting divorced. The couple has been plagued by rumors of marital strife for years, but up until now, they have always bounced back. So why are the Osbournes divorcing?
So far, everyone involved is keeping mum on the reason for the split, but sources have said that, contrary to expectations, it's not because of Ozzy's past problems with substance abuse. Instead, a crop of infidelity rumors have reared their collective head. Romper has reached out to both parties' representatives for comment and is awaiting a response.
Ozzy, the now 67-year-old lead singer of Black Sabbath, met Sharon, 63, in the 1970s when she was just 18 years old. They married in 1982. She became his manager, as well as the mother to his three children, Aimee, Kelly, and Jack. The whole Osbourne clan (minus oldest daughter Aimee, who refused to participate) became famous for their antics on The Osbournes, a reality show featuring their home life in the early 2000s. Since then, Sharon has parlayed her fame into judging gigs on The X Factor and America's Got Talent, and now she co-hosts The Talk, where she has often been candid about the struggles she and her husband have faced.
Those struggles have been numerous, and usually caused by Ozzy's history of substance abuse. In an interview with The London Evening Standard in 2007, the singer recounted how he had once attempted to strangle Sharon while blackout drunk in 1989. Though he did become sober for a time, the couple faced another challenge in 2013 when he fell off the wagon and reportedly began abusing prescription drugs. Sharon left him and divorce rumors started circulating, but she ultimately took Ozzy back when he got sober again.
"We're dealing with it," she said during an episode of CBS' The Talk that year. "We've dealt with worse. We're dealing with it and this too shall pass."
But it looks like this time, it will not pass. Ozzy has reportedly moved out of the house, and the DailyMail claims that, although he did not relapse, Sharon may have kicked him out after allegedly discovering evidence of an affair with a celebrity hairstylist.
It wouldn't be the first time the couple had faced down an alleged infidelity. Sharon once shared on The Talk that she'd once reportedly caught him in bed with multiple nannies hired to look after their children. However, she claimed she had forgiven him at the time because he was not sober. "He's out of his mind... he's calling them me," she recounted back in March. The Osbournes reps have not confirmed the latest cheating rumors but, if the whispers are true, it seems that this time, Ozzy may have known exactly what he was doing.
Maybe the couple will reconcile once again. Or maybe not. It wouldn't necessarily be the worst thing.