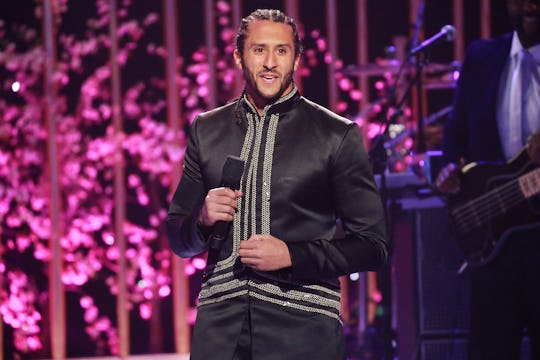 Leon Bennett/Getty Images Entertainment/Getty Images
This Is Why Everyone On The Internet Is Boycotting Nike Products
As the NFL season officially kicks off this weekend, professional football fans are ready to don their jerseys and root for their favorite teams. Meanwhile, a continuing controversy plaguing the NFL for several seasons is still there, lingering just beneath the surface: Peaceful protest during the national anthem. Colin Kaepernick of the 49ers first knelt during The Star Spangled Banner back in 2016. As the weeks went on, though, he was soon joined by more silent protestors. In kneeling during a time when they had the attention of so many people, these players are raising awareness for racial injustice — and specifically, the continued killing of unarmed blacks by police officers — that is still alive and well in the U.S. Still, plenty of football fans are probably wondering: Why are people boycotting Nike?
The outrage began on Monday, Sept. 3, with just one tweet from Kaepernick — a Nike ad featuring himself, according to USA Today. Overlain on a black and white photo of Kaepernick's solemn-looking face reads the message, "Believe in something, even if it means sacrificing everything. #JustDoIt." Nike promptly re-tweeted the ad, igniting a firestorm of backlash overnight. By Tuesday, talks of a boycott emerged. And apparently, some people even took it a step further by burning all of their Nike merchandise, Business Insider reported. That, my friends, is how the hashtag #justburnit was born.
One Twitter user posted a video of himself throwing several pairs of Nike shoes in a fire as the national anthem played in the background. (How "patriotic," right?) He wrote, "@Nike Due to your support of C.K. in your coming adds, I as an American can no longer support your company. #boycottNike#IStandForOurFlag."
As Newsweek reported, country musician John Rich also tweeted that his sound technician decided to cut off the Nike swooshes from his socks in protest. Rich tweeted, "Our Soundman just cut the Nike swoosh off his socks. Former marine. Get ready @Nike multiply that by the millions." He even shared a photo of the evidence on Twitter to prove it.
Yet another Twitter user shared a video of a pair of white Nike shoes set blaze, writing, "First the @NFL forces me to choose between my favorite sport and my country. I chose country. Then @Nike forces me to choose between my favorite shoes and my country. Since when did the American Flag and the National Anthem become offensive?"
Before you get too worked up about hundreds of dollars of shoes/clothing wastefully going up in flames, it's worth nothing that these Nike-burners seem to be in the minority. Celebs and non-celebs alike also took to Twitter to show their support for Nike's ad featuring Colin Kaepernick — like Serena Williams, who tweeted, "Especially proud to be a part of the Nike family today. #justdoit."
Actor Zach Braff chimed in with, "Nike ran the numbers. They'll be ok. But please, burn your socks."
One Twitter user thinks it's actually a smart business decision on Nike's part. She pointed out "I'm just here to remind folks that last year Colin Kaepernick was in the top 50 in NFL jersey sales, despite not being on a roster. Nike made a business move."
Another Nike supporter person pointed out, "Imagine if instead of cutting up and burning all those Nike sneakers people who were in the #BoycottNike movement donated them to homeless people and others who are in need? #TuesdayThoughts#justdoit." Excellent point. Why don't they?
Look, I'm all for sending a message to companies through boycotting and other peaceful methods of protest— but I honestly don't get this whole burning of shoes and clothing business. Nike isn't exactly a cheap brand, after all. But by all means, to those who are destroying their Nike merchandise, I say: Go ahead and set that $150 pair of shoes and those $50 T-shirts on fire if it makes you feel better. Because the only person who winds up losing out is you.