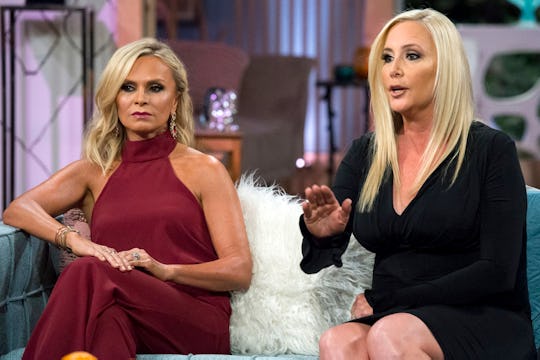 Nicole Weingart/Bravo
'RHOC' Star Shannon Beador Has Opened Up About Her Divorce
The finale of The Real Housewives of Orange County Season 12 revealed that after a season spent struggling, Shannon Beador and her husband David were separating. The news of their impending divorce had broken shortly before the episode aired, and it's sure to be discussed in the first part of the reunion special. But why are Shannon Beador and her husband getting divorced?
Shannon spoke to People about the reasons behind the split, saying, "I felt alone in my marriage. You can do what you can to keep your family together, but you have to have willing parties. You need two people to make a marriage work, and that just wasn't happening in our relationship." She also explained that she felt separation was the only solution, though it was a heartbreaking one.
Fans saw that firsthand throughout Shannon's time on RHOC. She spent a few seasons working through her feelings about David's affair and struggling to reconnect with him — something that did appear to happen for a time. They renewed their vows a year ago after almost 17 years of marriage, but when Season 12 started up, the distance between them was obvious. Shannon always spoke openly about her feelings, and it seemed like she was really struggling.
Shannon discussed how things were going between her and David since their separation in an episode of Watch What Happens Live with Andy Cohen. It could give a little more insight into how she was feeling during the production of the reunion specials. "When we filmed the reunion we had been separated for five weeks and there was a part of me that thought finally getting it out there would be a sense of relief, but in actuality, it made it official and it made it real so I've been having good days and bad days," she explained.
Understandably, it wasn't always going to be easy. But while there were adjustments to be made and difficult emotions to deal with, Shannon insisted that it had to happen and she knew good times were ahead. She wanted to make sure she was doing what was best for her and for her three daughters, 15-year-old Sophia and 12-year-old twins Stella and Adeline. That meant a separation was necessary, though reportedly she and David remain on good terms and even have a weekly dinner to keep things running smoothly for the family.
In another interview with People about the break-up, Shannon made it clear that her kids were her priority. "As a mother, I want to be a good role model for my daughters," she said, going on to talk about how she was proud of herself for keeping the family together after the affair. However, she slowly realized changes had to be made. "As a mother you keep thinking about your daughters and you have to say, 'This is an unhealthy environment.' Not only is it unhealthy for me, but it's unhealthy for my girls, too. They deserve a happy and joyful home, and I am providing that for them now."
Now Shannon is focusing on herself and her happiness, according to Bravo's The Daily Dish. That's sure to be great news for fans who witnessed how unhappy she seemed throughout Season 12. It would be good to see a more contented Shannon once the show returns for its upcoming 13th season, but that's still some time away. There's still the reunion to get through and probably some tough patches, as is the case with any major life change. But Shannon seems to be on the right path for her, which is the most important thing.
Check out Romper's new video series, Romper's Doula Diaries:
Watch full episodes of Romper's Doula Diaries on Facebook Watch.