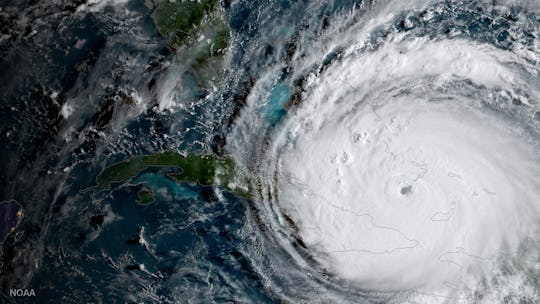 Handout/Getty Images News/Getty Images
Here's Why There Are So Many Hurricanes In The Atlantic
A week after Hurricane Harvey devastated the Texas Gulf Coast, Hurricane Irma tore through the Caribbean islands on its way to southern Florida, where residents are bracing for its landfall. At the same time, two other storms — Katia and Jose — have also formed in the Gulf and the Atlantic Ocean, leading many people to ask: Why are there so many hurricanes in the Atlantic? Although it may unusual, it's not uncommon.
According to Vox, Katia and Jose achieved hurricane status over the last two days, bringing the number of active hurricanes in the Atlantic and the Gulf up to three. But it's not unprecedented to have more than one hurricane active at the same time, especially near the hurricane season's peak, which is mid-August to September. Atmospheric scientist Phil Klotzbach, who teaches at Colorado State University, told Vox that multiple active hurricanes occur once every 10 years, on average, adding,
In the satellite era, since 1966, this has happened in: 1967, 1980, 1995, 1998, 2010 and now in 2017.
The Atlantic is "primed for making major hurricanes" this season, which is why so many storms are on a path to the United States, according to PBS. Meteorologist Jeff Masters told PBS that three factors is causing these storms to head this way: Weak wind shear, warm water temperatures, and high levels of air moisture.
That doesn't mean this season hasn't seen its share of firsts. According to CBS News, although major storms do form back-to-back, it's rare for more than one powerful hurricane to hit the United States in one season. Klotzbach, also interviewed by CBS News, said that if, following Harvey, Hurricane Irma were to make U.S. landfall as a Category 4 or 5 storm, it would be the first time in historical record that two hurricanes would hit the states one right after the other.
To be clear, the United States saw a devastating and record-breaking hurricane season in 2005, when three major hurricanes — Katrina, Rita, and Wilma — made landfall. But those storms didn't happen back-to-back, which is why if Irma hit, it would be unprecedented.
And here's another first, of sorts: According to CBS News, Hurricane Irma has set the record for the most powerful storm to form in the Atlantic Ocean region when it reached 185 mph winds. Irma is also one of the longest lasting and most powerful Category 5 storms on record, according to Vox. It has been downgraded to a Category 4 storm with sustained 155 mph winds.
Hurricane Irma has left widespread destruction in its wake after pummeling the Caribbean Islands earlier this week. According to BBC News, the small island of Barbuda has been completely destroyed, leaving most of its residents homeless. Now southern Florida is bracing for Irma's impact, with mandatory evacuations in place for its millions of residents.