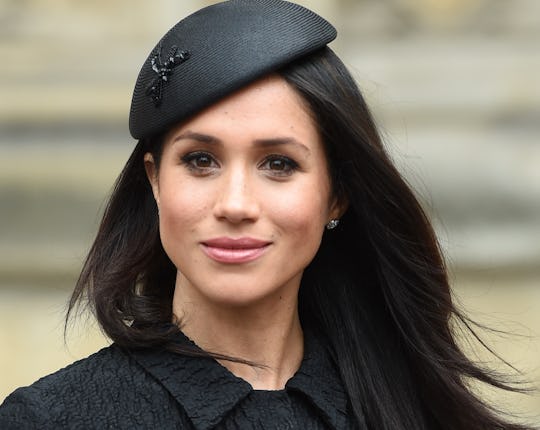 WPA Pool/Getty Images Entertainment/Getty Images
Here's Why Meghan Markle Is Being Called "Rachel" At The Royal Wedding
Those who got up at the crack of dawn (or earlier) to watch the royal wedding from the U.S. might have thought that the Archbishop of Canterbury was just as sleep-deprived as they were, because he seemed to be referring to the bride by the wrong name. If you're scratching your head wondering why they're calling Meghan Markle "Rachel," there's actually a good explanation.
In an age where DVRs are common and everything lives on the internet forever, it takes a big event to get people to tune in to live TV. For the dedicated viewer, live-watching can sometimes result in the ultimate reward: one of those "Where were you when...?" moments. Like when La La Land accidentally got Moonlight's Oscar, when Kanye called out President George W. Bush, or when Justin Timberlake revealed Janet Jackson's nipple to 140 million people. You might be thinking that you just bore witness to another one of those, henceforth known as "that time the Archbishop of Canterbury confused Princess Meghan with her Suits character." Sorry to burst your bubble, but he didn't really think he was presiding over Rachel Zane's wedding to Mike Ross. I don't think they even get that show over there, to be honest.
Markle's full maiden name is actually Rachel Meghan Markle, so during the royal wedding, just like with many American ceremonies, the officiant used the bride and groom's first and middle names, just as he did for the last one, when he referred to Kate Middleton as "Catherine Elizabeth." And did you catch what he was calling Prince Harry? That's right, he doesn't go by his real name, either. Harry is just a nickname for Henry Charles Albert David. Royals named Henry traditionally go by the nickname Harry — even Henry VIII was known as Harry to friends and family — and since the public no longer has to fear a beheading over getting too familiar with royalty, we all refer to him by his informal name.
So does that mean that Markle's title will be Princess Meghan, or Princess Rachel? Surprise, it's neither! Though we'll all likely use "Princess Meghan" the way we use "Princess Kate," neither name is accurate, according to People. The wives of princes aren't actually princesses; they just get to use the female version of their husbands' titles. Kate is really Princess William, and likewise, her sister-in-law will be Princess Henry (not Harry). Still with me, here?
That being said, she will have her own, real title. After Harry is married, the Queen will bestow titles on both him and his wife, just as she did with William and his bride, the Duke and Duchess of Cambridge. It's thought that they'll be named Duke and Duchess of Sussex, according to Town & Country. Kate's title is Catherine, Duchess of Cambridge, so that means Markle will probably be named Rachel, Duchess of Sussex, or possibly Meghan, Duchess of Sussex.
As for last names, that's a whole can of worms, too. Technically, royals have no last name, so you're likely to still hear her called "Meghan Markle" from time to time, just like you still hear "Kate Middleton." But on most documents, she'll probably just sign as "Meghan," royal expert Marlene Koenig explained to Town & Country. If she has to use a last name, she can use Mountbatten-Windsor, as some others in the family have done. Queen Elizabeth is the head of the House of Windsor, and Mountbatten is the former official last name of her husband, Prince Phillip. Complicating things further, Prince George goes by "George Cambridge" at school, according to Elle, because he's the Prince of Cambridge. So Markle could theoretically go by "Meghan Sussex" — or wherever she's the duchess of — as well. All that is to say, the lady's got a lot of names. If you ever happen to meet her, maybe just wait to see how she's introduced before putting your foot in your mouth.