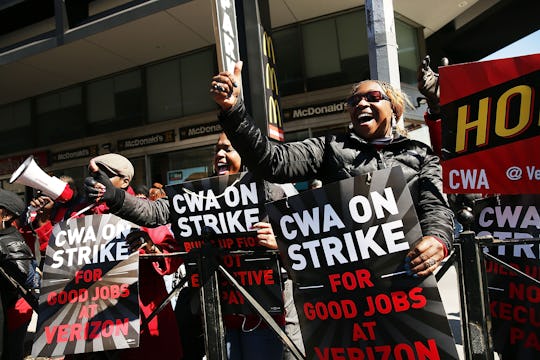 Spencer Platt/Getty Images News/Getty Images
Why Are Verizon Workers Striking? Bernie Sanders Just Gave Them His Support
Democratic presidential hopeful Bernie Sanders joined a group of protesters on Wednesday after tens of thousands of Verizon workers walked off their jobs. The former Vermont senator was welcomed with cheers when he unexpectedly visited a picket line in Brooklyn to show solidarity with the striking installers, customer service workers, repairmen and other service workers. But why were the Verizon workers striking in the first place?
Two unions, The Communications Workers of America and International Brotherhood of Electrical Workers, went on strike this week after contract renegotiations stalled. East Coast employees of Verizon's cable and landline business began protesting at 6:00 am Wednesday after the telecom giant and communications unions failed to produce a new contract with favorable terms (their original contract expired in August). Union representatives told NBC News that Verizon has been pushing for "greater flexibility" over workers and ways to control pricy health care benefits for its employees.
David Doran, a field technician for Verizon, told NBC, "We're striking for a fair contract. The company wants to outsource our work to other countries. We believe there's enough work here that can be done by the people in the union now."
This will be the United State's largest strike in four years. It comes just ahead of the New York presidential primaries, with both Democratic presidential candidates currently campaigning heavily in the state.
Addressing the crowd from a small stage in Boerum Hill, Sen. Sanders on Wednesday encouraged those picketing to continue their fight. "Brothers and sisters, thank you for your courage in standing up for justice against corporate greed," Sanders praised. The presidential hopeful, speaking through a bullhorn, continued, "Verizon is one of the largest, most profitable corporations in this country but they refuse to sit down and negotiate a fair contract."
The CWA, one of the striking unions, endorsed Senator Sanders, who has vocally supported organized labor unions during his time in Congress, for the Democratic nomination in December 2015. On the picket line, the senator spoke of the struggle against loss of benefits, outsourcing, and unsatisfactory contract terms.
He acknowledged that the protest would be hard on the workers, saying, "I know your families are gonna pay a price for going on strike. But you have chosen to stand up for dignity, for justice and to take on an enormously powerful special interest." By striking, Sanders asserted that they were "telling corporate America the workers are not something you can push down and down and down."
Sanders' rival for the Democratic nomination, Hillary Clinton, who was endorsed by the other union on strick — the International Brotherhood of Electrical Workers —issued a statement on the protest early Wednesday. Siding with the workers, Clinton said, "Verizon should come back to the bargaining table with a fair offer for their workers." The former Secretary of State continued,
To preserve and grow America's middle class, we need to protect good wages and benefits, including retirement security. And we should be doing all we can to keep good-paying jobs with real job security in New York.
The president of Verizon's wireline network operations Bob Mudge told NBC that the company was "ready for a strike." According to Mudge, Verizon had apparently trained non-union workers and re-organized staff to fill openings made by the striking employees. Mudge assured NBC that Verizon's "first priority is maintaining services for our customers."
The last Verizon worker strike, in August 2011, lasted two weeks. Neither company executives nor union representatives would offer an estimate on how long this current walk-out would last.