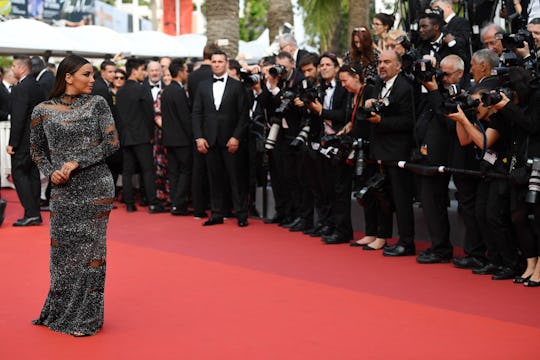 Pascal Le Segretain/Getty Images Entertainment/Getty Images
This Is Why So Many Women Are Wearing Black To The Golden Globes
If your favorite thing about awards season is watching the red carpet arrivals and marveling at all those actors in their sparkling jewel-toned gowns, you may have noticed that there's something a little different about the first ceremony of 2018. Why are women wearing black to the Golden Globes? It's a powerful statement from the women of Hollywood that they will no longer tolerate the system of sexism and rape culture that's dominated not only their industry, but virtually every work industry, for far too long.
Some might be under the impression that the "Me Too" movement is exclusive to the entertainment industry, but that's not how it began (please learn more about Me Too founder Tarana Burke here), and that's not where it's going to end, either. Naturally, famous voices are amplified, but now, hundreds of women in Hollywood have pledged to use their positions of relative power to fight for justice for all women. "Time's Up," an initiative founded by more than 300 female actors, agents, writers, directors, producers, and entertainment executives, plans to counter workplace sexism, harassment, and assault by advocating for fair employment practices, legislation to hold employers accountable, and setting up a legal fund to protect less privileged men and women who have suffered from workplace sexual misconduct. The founders and their supporters pledged to to wear black to the Golden Globes in a show of solidarity and an amplification of their movement.
The letter announcing the formation of Time's Up echoed a sweet message of support by the Alianza Nacional de Campesinas (National Women Farmworkers' Alliance) published in Time in November. "Dear Sisters," it began, "We write on behalf of the approximately 700,000 women who work in the agricultural fields and packing sheds across the United States." The ANC acknowledges that "though we work in very different environments, we share a common experience of being preyed upon by individuals who have the power to hire, fire, blacklist and otherwise threaten our economic, physical and emotional security," and reassures the women in the entertainment industry, "Please know that you're not alone. We believe and stand with you."
Time's Up expressed gratitude to the ANC for reaching out to stand with them, and paid it forward in a big way. As rich and famous people, naturally, they're in a position to help others both financially and by calling attention to the issue of systemic sexual misconduct, but most importantly, they urge all women, from all walks of life, to stand together to face their common enemy. Men are also showing their support for the movement at the Golden Globes; last month, stylist Ilaria Urbinati posted on Instagram, "YES, the men WILL be standing in solidarity with women ... At least ALL MY GUYS will be." Her male clients include Tom Hiddleston, Armie Hammer, and Dwayne "The Rock" Johnson, according to Entertainment Weekly.
Gal Gadot, Saoirse Ronan, Mary J. Blige, Allison Janney, Reese Witherspoon, Shonda Rhimes, Jennifer Aniston, and Holly Hunter were among those who planned to heed the call to wear black, according to Page Six, although not every vocal opponent of Hollywood sexism is on board. In mid-December, Rose McGowan railed against the plan to wear black in a now-deleted tweet, calling the movement "a silent protest" that will "affect no real change," according to Deadline. But Eva Longoria told The New York Times that's a misconception:
Instead of asking us who we're wearing, they'll ask us why we're wearing black. We're using that platform and using our voices to say we can change this ideology, and shatter the sexism that teaches men that women are less.
The Representation Project has been encouraging red carpet correspondents to #AskHerMore for three years now, and the Time's Up plan to wear all-black will all but force them to do so, not just for the sake of the women in their own industry, but for all women. The Time's Up legal defense fund has nearly met its $15 million goal; click here to donate money, or if you're an attorney, click here to volunteer your services. If you're in need of legal representation, contact the National Women's Law Center's Legal Network for Gender Equity. And if none of those apply to you, visit the Time's Up website to learn more about the initiative, the shocking statistics that made it necessary, and what everyday people like you can do to change the culture of workplace sexism.
Check out Romper's new video series, Romper's Doula Diaries:
Watch full episodes of Romper's Doula Diaries on Facebook Watch.