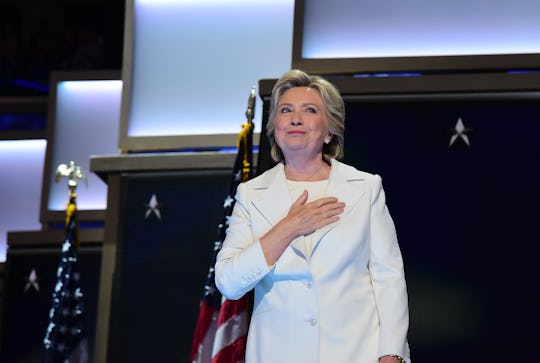 ROBYN BECK/AFP/Getty Images
Why Are Women Wearing White To The Polls On Election Day? It's In Honor Of This Struggle
It was a unmistakable nod to the women who came before her, and a reminder to the women who watched her accept that historic nomination. Former Secretary of State Hillary Clinton wore an all-white signature pants suit for her speech at the Democratic National Convention, many suspect, to honor the women of the suffrage movement who fought for a woman's right to vote. So if you look around and wonder why women are wearing white on Election Day, it's inspired by Clinton, and the women from history who fought so hard to make her candidacy possible. American women everywhere are following Clinton's fashion lead, and wearing white to cast their vote and hopefully, finally shatter that biggest hardest glass ceiling — the one that's kept women out of the White House. Until now.
According to the New York Times, the color white, along with purple and gold, were the colors adopted by the Congressional Union For Woman Suffrage. The group's mission statement said, white "symbolizes the quality of our purpose," according to the Times.
Geraldine Ferraro also wore an all-white suit for her 1984 Democratic National Convention speech accepting her historic nomination for vice president, in honor of the women of the suffrage movement, according to The Guardian. It's been kind of a feminist "thing" for a while, and during the lead up to the election pitting the first female candidate against a cartoon sexist character, women have been looking for ways to communicate their disgust.
As Election Day approaches, women everywhere are deciding to take up the same tradition as they cast their vote for the first woman president in American history. The Boston Globe reported the call for women to wear white on Election Day appears to have sprung up independent of any influence from the Clinton campaign, being organized largely around social media and the hashtag, #WearWhiteToVote.
As Ms. Magazine pointed out with this tweet, this isn't the first time feminists have embraced wearing white to make a statement.
Here's a big group of more than 200 women, men, and kids dressed in white who gathered on Oct. 26 for Hillary Clinton's birthday in Little Rock, Arkansas, to honor the nominee. The group listened as excerpts from "Century of Struggle" were read and talked about what the right to vote meant to them, according to the Boston Globe.
Now memes and sentiments are being shared on social media encouraging women to start a new Election Day tradition and wear white as a symbol of their acknowledgment of the struggle that won that right.
Here's another meme that suggests you honor Suffragettes and "Grab Them By The Ballot Box."
"It's unofficial, it's nothing formal, but it would be nice to see people do it and kind of give a tip of the hat to everything Hillary has gone through this last year and a half," Maureen O'Brien, a voter from Albany, New York, told the Boston Globe about why she's encouraging Clinton supporters to wear white on Election Day. "[Clinton]'s smart, she's bright, she wasn't just kind of picking out china in the White House and they went after her from day one."