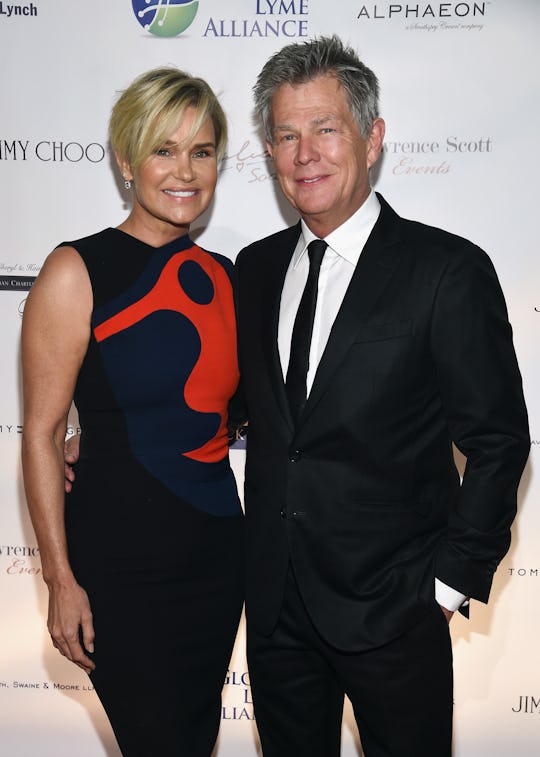 Getty Images
Why Are Yolanda And David Foster Getting Divorced? RHOBH Fans Want To Know
Tonight's the Real Housewives of Beverly Hills sixth season premiere, and it was going to be a great day for fans. We needed this. Then news broke that Yolanda and David Foster are divorcing. It's really sad, namely because we've watched the couple go through all the ups and downs that come with marriage. So why did Yolanda and David divorce? They seemed pretty great, even though Yolanda's Lyme disease, which she was diagnosed with shortly after their marriage in 2011, wasn't getting any easier to handle.
According to US Weekly, multiple sources have said that her illness really took a toll on the couple's life together. Said sources told the magazine that allegedly, Yolanda can't travel with David as much anymore. If you've ever been in a long distance relationship, or even one like this where one partner is gone for stretches at a time, it's easy to see how things can start to fall apart. Especially if you're sick, too.
The good news is that it's reportedly been amicable (so far). The couple told People magazine that:
Sadly we have decided to go our separate ways.We've shared nine beautiful and joyous years together. During that time we experienced love, friendship and the inevitable challenges that come with managing a marriage, careers, blended families and health issues.
Not that there haven't been hints at some changes. Recently, Yolanda posted a pic of their Malibu house up for sale and hinted at a closing chapter. Then, yesterday, she some thoughts about about taking big leaps of faith, captioning this photo on Instagram, "This is so cute, it reminded me that ️sometimes you just have to jump and trust you will land in the right place............ #LifeForce"
Talk about conscious uncoupling. But fans are not taking it well:
And while everyone feels for Yolanda, some are a little suspicious about the timing with tonight's premiere.
But come on — we were all tuning in anyway, right? You don't mess with a new season of Real Housewives.
Image: Dimitrios Kambouris/ Getty Images; YolandaFoster/Instagram