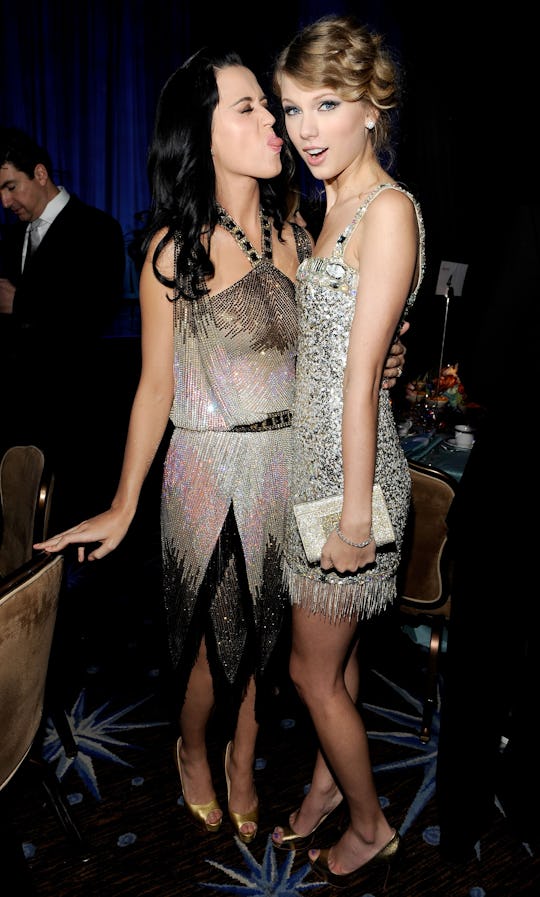 Larry Busacca/Getty Images Entertainment/Getty Images
This Is Why People Think Katy Perry & Taylor Swift Are Feuding
If you've checked any form of social media, online news source, or listened to the radio at all over the past year, you've probably heard of all of the alleged drama between pop superstars Taylor Swift and Katy Perry. Since 2013, in fact, rumors that the two singers had issues have been swirling, and they've only escalated over time. However, now that Swift has finally announced the release of new music, and Perry is set to host this year's Video Music Awards, there's still one question on everyone's minds: exactly why aren't Katy Perry and Taylor Swift friends?
Well, to answer that question, you have to go back. Way back. In 2013, three backup dancers for Swift's Red tour were reportedly "poached" by Perry, according to Rolling Stone. After that, the singers' friendship came to an abrupt halt, and Swift's 2014 press tour for 1989 was rife with subtle references to her upcoming song about Perry, Bad Blood.
Currently, though, Swift hasn't said anything about Perry in years, despite Perry's latest press surrounding her new album largely being tied to her feud with Swift. With the release of Swish Swish, which many have dubbed as Perry's diss track to Swift, fans are wondering if Swift will let the feud continue, or take back control over the narrative with her new album.
Of course, it's important to note that most of what is written about both Perry and Swift is pure observation, with some anonymous sources providing information that usually isn't confirmed. And the latest rumor surrounding the two women is that they will officially end their fued with a duet at the VMAs on Sunday. However, Garrett English, one of the producers of the VMAs has already put a stop to those rumors, telling Entertainment Tonight, "That's not happening as far as [I know]. I've certainly seen all the rumors flying around, but that's not happening."
There are also comparisons being drawn to Perry's latest music video being a rip-off of Swift's Bad Blood, which would point to their feud not being over. But the thing is, so much of the Swift-Perry feud has been perpetuated and overblown by the media, something Swift seems ready to face head-on with her new album.
In reality, neither woman has attacked the other overtly since 2015, and they're both responsible for producing brilliant music. So, whether or not Swift and Perry are "friends" is somewhat irrelevant — unless, of course, the two decide to open up about it and reunite at tonight VMAs. But, until then, though, fans will just have to sit back and enjoy the music.