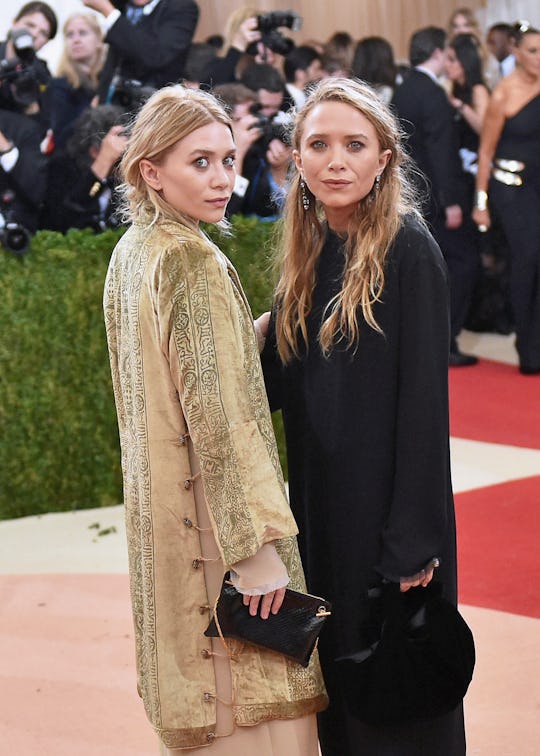 Mike Coppola/Getty Images Entertainment/Getty Images
Why Aren't Mary-Kate & Ashley Olsen In 'Fuller House' Season 2? They Have A Good Reason
Netflix's Full House reboot premiered last February, and just days after it was released, the streaming service announced that Fuller House had been renewed for a second season, thanks to a huge social media response. While the series gathered up every original cast member for the remake, including some surprises like Aunt Becky and Uncle Jesse's twins, one Tanner was notably absent from the bunch. Mary-Kate and Ashley Olsen didn't return to the series to play youngest Tanner sister, Michelle. So some fans may be wondering this time around: why aren't Mary-Kate and Ashley Olsen in Fuller House Season 2?
As it turns out, fan disappointment, pleas from the original cast and producers, and plenty of Season 1 jokes mocking their absence wasn't enough to get M-K and A back on the show. (Uh, and why would endless derision work as a convincing tactic to lure them back, anyway?) Mary-Kate and Ashley actually had a great and very simple reason for not returning to the show to begin with. They began their first run on Full House in 1987 as infants — it's not like they had a lot of say in whether or not they would become actors. Of course, the show took off and was hugely successful, carrying them both well into their childhoods by the time it wrapped eight seasons later.
At that point, the Olsen twins had a well-established fanbase and were old pros at production and show business. So it only made sense to capitalize on their popularity by launching their own production company Dualstar, and developing a series of TV, film, and video project franchises starring themselves. It was a hugely successful business enterprise, but by the time they reached college, the Olsens were ready to translate their business-running expertise into other industries.
They dabbled in modeling, but eventually launched several successful fashion lines, from their couture collection The Row to their contemporary collection Elizabeth & James to their JCPenny-exclusive line Olsenboye. Mary-Kate and Ashley Olsen are extremely highly-regarded in their chosen industry, which is great for them, and totally reasonable grounds on which to graciously bow out of the reboot. "They seemed very into it. They just were afraid of acting," John Stamos said when it was first announced that they wouldn't be returning. "They don't consider themselves actresses."
"Ashley said, 'I have not been in front of a camera since I was 17, and I don't feel comfortable acting,'" executive producer Bob Boyett told People in an interview. "Mary-Kate said, 'It would have to be me because Ash doesn't want to do it. But the timing is so bad for us.'"
And Dave Coulier made a good point when he added, "They're family members, but I think they have a different perspective. When we get together and we reminisce, they were babies [at the time]. So they don't share those same memories. I can't really speak for them but I would understand why they don't have the same sentiments that we all do."
So the good news is, there are no hard feelings between the Tanners off-screen. Acting just isn't what the twins do anymore.