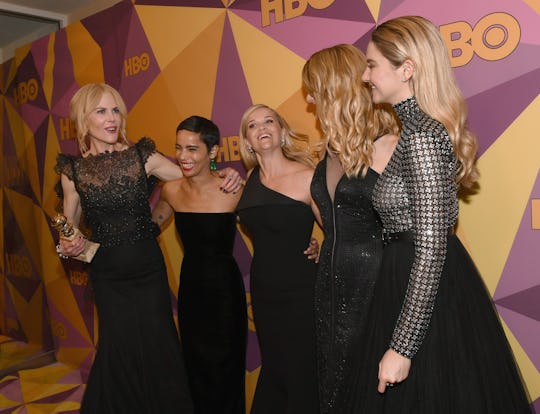 Emma McIntyre/Getty
This Is Why People Aren't Wearing Black At The 2018 SAG Awards
In the wake of the tsunami of sexual misconduct allegations that have hit Hollywood recently, numerous men and women in the entertainment industry are taking a decided stand against sexual assault and misogyny in any form. That's why everyone wore all black to the Golden Globe Awards. So why aren't people wearing black at the SAG Awards? That particular statement was only for the Golden Globes, but the Time's Up and Me Too conversations are far from over.
At the Golden Globes red carpet, interviewers were encouraged to ask actors "Why are you wearing black?" instead of the usual "Who are you wearing?" I will admit that when I first heard about the all-black dress code, I thought it made for a fairly weak protest. After all, don't people often wear black to these things anyway? But the truth is that the protest really did facilitate more interesting red carpet conversations, and opened the door for criticisms about the lack of gender equality that still exist today. Though everyone is wearing whatever color they choose to the SAG awards, the Me Too and Time's Up atmosphere is still just as present. For example, for the first time the awards show will feature female-only presenters, as well as female-only actors in the introductory "I am an actor" videos.
Coming immediately after the Women's March on Saturday, the SAG Awards were still very much a night celebrating female power and standing up to powerful men. Time's Up was definitely not a one-time event. But this time instead of having a dress code for everyone who supports the movement, the "girl power" was more just an atmosphere in the air. And quite frankly, I was excited to see colorful fashion on the red carpet again, though I truly hope the mood of female power continues.
In one of the first interviews on the red carpet from E!, host Giuliana Rancic interviewed Alison Brie (one of my favorites) who is nominated as part of the ensemble for her Netflix show GLOW. Brie wore a striking red gown reminiscent of the women's over-the-top and often patriotic costumes on the show that I loved. I also feel like red is a powerful color. But Rancic didn't go easy on the lovable star, and didn't shy away from asking Brie about the recent allegations of sexual misconduct against Brie's brother-in-law James Franco, especially in light of Brie's support of the Me Too and Times Up movement. Brie was careful to reiterate her support of the movement, while also saying that the facts of the matter are still unclear.
Franco himself denies the allegations and spoke out on the matter on both The Late Show with Stephen Colbert and Late Night with Seth Meyers. He told Colbert:
The things that I heard that were on Twitter are not accurate, but I completely support people coming out and being able to have a voice because they didn't have a voice for so long. I don't want to shut them down in any way. If there's restitution to be made, I will make it. If I have done something wrong, I will fix it. As far as the bigger issues... I'm here to listen and learn and change my perspective where it's off.
Franco also told Meyers a similiar sentiment, stating that he doesn't plan on "actively refuting" the accusations, while adding:
There are stories that need to get out. There are people that need to be heard. I have my own side of this story, but I believe in these people that have been underrepresented getting their stories out enough that I will hold back things that I could say just because I believe in it that much. And if I have to take a knock because I'm not gonna try and actively refute things, then I will, because I believe in it that much.
One of my other favorite interviews from the red carpet, though, was with Danielle Brooks who plays MVP of Orange is the New Black, Taystee, and looked flawless in a sparkly red and black gown. Brooks laughed that she was excited to wear something besides prison clothes. She also got a chance to shout out her own fashion line for "curvy girls" as she said. Wearing a sleek, silver sequined gown, Allison Janney said she felt like Khaleesi's warrior shaman, which I adore.
For this awards ceremony, it was clear that though the actors present (particularly the women) were still committed to the cause, everyone was happy to be decked out in bright colors and sparkles again. Sequins in particular seemed to be the trend of the night and I am completely here for it. If I ever decide to make a career switch and somehow turn out to be a brilliant actor starring in a award-winning television shows or movies, I will definitely be showing up in something brightly colored and bedazzled AF. So watch out for that.
Check out Romper's new video series, Romper's Doula Diaries:
Watch full episodes of Romper's Doula Diaries on Facebook Watch.