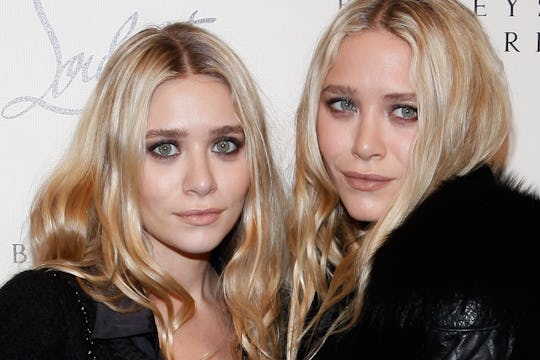 Why Aren't The Olsen Twins In 'Fuller House'? They Won't Be Coming Back As An Older Michelle Tanner
Now that one of the nation's favorite '90s families is headed to Netflix, fans are asking one major question: Why aren't the Olsen twins in Fuller House? Mary-Kate and Ashley Olsen were only 1-year-olds when Full House started; the twins shared the role of Michelle Tanner until the show went off the air right before their ninth birthday. According to Entertainment Weekly, opting out of the online series revamp wasn't an easy decision.
The Olsens did apparently talk to the production team about returning to their San Francisco home, ultimately deciding that they weren't sure they were prepared to return to acting. John Stamos said something similar in an interview with Howard Stern: that the Olsen twins "don't consider themselves actresses." Dave Coulier, who played Joey Gladstone in Full House, said he felt the Olsens were not as emotionally attached to the project as many of the older cast members, according to Entertainment:
They're family members. But I think they have a different perspective. When we get together and we reminisce, they were babies [at the time]. So they don't share those same memories. I can't really speak for them, but I would understand why they don't have the same sentiments that we all do.
When the Olsen twins opted out of Fuller House, the production team didn't give up. TODAY reported that, at John Stamos' suggestion, Elizabeth Olsen (Mary-Kate and Ashley's sister) was approached for the part. In a radio interview with Andy Cohen, Stamos said he thinks Full House creator Jeff Franklin ultimately made the call to Elizabeth's agent, but she didn't have an interest in pursuing the role. Her own acting career is taking off: Elizabeth Olsen will play Scarlet Witch in Captain America: Civil War, out May 2016.
Though it's disappointing to many that Mary-Kate and Ashley won't join their on-screen siblings for the revival, the twins will have plenty of time to keep building out their fashion empire. The two masterminded clothing line THE ROW and recently released their Ready-to-Wear and Leather Goods Resort collections for 2016. According to Entertainment Weekly, the Olsens won the Womenswear Designer of the Year award from the Council of Fashion Designers of America (CFDA). They've taken a big step forward from their '90s look of overalls and pigtails.
Though it'll be sad to see opening credits without Michelle Tanner, will the country still be watching when Fuller House premieres Friday, Feb. 26? You got it, dude!
Image: Cindy Ord/Getty Images Entertainment