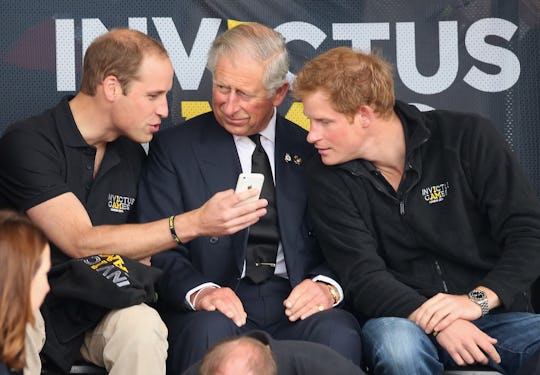 Chris Jackson/Getty Images Entertainment/Getty Images
Ever Wonder Why The Royals Aren't On Social Media? Here's The Deal
These days, when you hear that someone doesn't have a Facebook or Instagram account, you tend to raise an eyebrow. For those us who are glued to scrolling through our newsfeeds, you might be curious about why you can't find verified accounts for Prince William, Kate Middleton, Prince Harry, and now the newest member of the royal bunch, Meghan Markle, who was previously pretty active on the sites. So, what's the deal? Why aren't the royals on social media?
There are, of course, official social media accounts that offer insights into the royal family's lives and provide plenty of updates and photos, but most members of the royal family appear to steer clear of personal social media accounts. Though some people may have already been aware of this, the fact there are no official @PrinceHarry and @Prince William accounts became more apparent after Markle and Prince Harry got engaged last fall. In January, Markle deleted all of her personal social media accounts, causing many to wonder why.
Sure, the official Kensington Palace social media accounts posts about Markle and Prince Harry fairly regularly, and also updates the public on the lives of Prince William, Middleton, and their three children. So why don't the royals have their own accounts?
Well, really, the better question might be, why don't the royals want personal social media accounts?
According to royal expert, Katie Nicholl — who also wrote Harry: Life, Loss, and Love — Markle wasn't forced to get rid of her personal social media accounts when she was officially on her way to joining the royal family, as In Style reported. Nicholl told In Style that Markle's lifestyle blog, The Tig, was probably part of the problem, explaining:
With regards to the social media, it was causing I think a bit of apprehension back at Palace HQ. When you write a blog such as The Tig, you do end up giving quite a lot of yourself away. You do end up inviting the cameras into your private life.
Basically, it seems like the royal family is simply concerned with being able to maintain their privacy, which is completely understandable considering celebrity status.
So it seems like Markle's decision to first shut down her website and subsequently her personal social media accounts was her own to make, though it was probably appreciated by the royal family. According to In Style, Nicholls explained:
I think that when she did decide to close her social media, there was a great sigh of relief in the corridors of Kensington Palace that she did. I don't believe she was ever instructed to close down The Tig. I think it was, from what I was told, it was a personal decision.
However, it isn't just Markle who avoids social media. Recently, back in January 2018, Middleton spoke out about social media and how it could negatively impact your life. The 36-year-old duchess spoke at the Reach Academy Feltham in west London to students about the downsides of social media, which could provide some insight into why she has chosen to stay away. "It can get so addictive as well. It becomes part of your lifestyle, doesn't it?" Middleton posed to the audience, according to Express.
Middleton continued her speech, which was reportedly given just "hours after" Markle deleted her social media accounts, according to Express:
It's hard to break away from that, but having the support and learning, the good ways of using social media, because it's great in so many contexts, but it's also being able to sort of monitor your own use of it as well, which is great.
And Middleton isn't the only one who seems to feel that social media can have more negatives than positives. According to People, Prince William gave a very impassioned speech back in 2017 about the pressures young people feel about social media, saying, "it can take a toll." Prince Harry, for his part hasn't really spoken out against social media, but it has been rumored that he's had some secret accounts over the years, according to Cosmopolitan.
Whatever the case may be, it's clear that the royal family just likes to maintain as much of a semblance of normalcy as they can and by staying away from their own personal social media accounts, hopefully they're able to do just that.