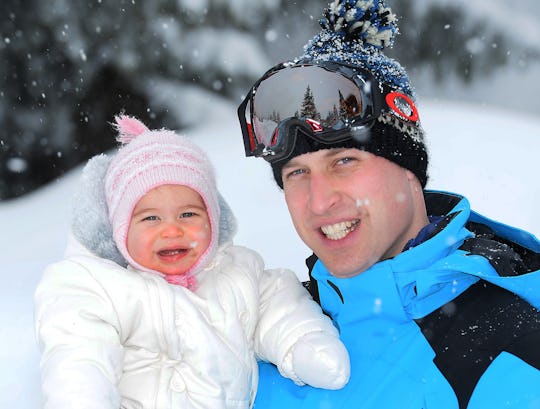 JOHN STILLWELL/AFP/Getty Images
Why Aren't There Princess Charlotte Stamps? She Might Want To Ask Prince Harry
It's pretty safe to assume that, as the children of the wildly-popular Duke and Duchess of Cambridge, Prince George and Princess Charlotte, are going to have a pretty sweet upbringing. Not only do they get the benefits from centuries of royal tradition (I mean, they live in a palace), as the newest generation of royals, they get to avoid some of the pitfalls older generations faced. Before the birth of Prince George, succession laws in Britain were updated to allow the Cambridges first-born child to inherit the throne regardless of gender — which means Prince George would've still been the rightful heir, even if he'd been a girl (yaaaas). But that doesn't mean there won't still be some significant differences between the lives of Prince George and Princess Charlotte as they grow up — something which was perhaps seen most clearly in the recent release of special royal stamps, which, according to People, were a tribute to Queen Elizabeth II on her 90th birthday. As third in line for the throne, Prince George got his own special stamp as part of the collection. But why aren't there Princess Charlotte stamps?
Unfortunately, as the second-born child, Princess Charlotte doesn't enjoy as much significance on the royal hierarchy as her older bro. So while she is still an important member of the family (and definitely one of the cutest!), thanks to royal tradition, she probably won't be finding her face on a stamp any time soon.
If Princess Charlotte ever finds herself totally bummed out about these royal rules as she gets older though, she will definitely have a understanding ally in her uncle, Prince Harry. As the younger brother to heir Prince William, the two became jokingly known as "the heir and the spare" — after all, Prince Harry would've only become King if something had happened to William before he had kids. And now that Prince George is around, he's been pushed even further down the royal pecking order, according to the Telegraph (Prince Harry is currently 5th in line, since he's actually also been usurped by Princess Charlotte). So if there's anyone who knows all the pros and cons to life as "the spare," it's definitely Harry.
One of the downsides of life as the younger sibling of an heir, according to the Independent, is that Princess Charlotte will be just as much in the spotlight as her older brother, though will a less well-defined path of what her role in life is one day likely to be. Like his father Prince William, Prince George will be raised with the expectation that he could be King one day, while Princess Charlotte will most likely have to carve out a life for herself that doesn't include taking the throne.
Prince Harry has done a pretty good job at figuring out his own interests — he joined the military, and is also fairly active in charity work — but it seems like his female relatives had to work a little harder to figure out their place. Prince Harry's cousin, Zara Philips, was able to turn her experience riding horses into her actual career (pretty cool), but Princesses Beatrice and Eugenie both seem to still be working on finding their career footing (although, unlike most girls their age, unemployment or underemployment also happens to involve a number of super luxe vacays, so, you know, probably still not that bad).
One word of advice Prince Harry might have for his niece though? Keep your "I don't have to be as responsible as my older brother" partying away from the cameras as you grow up, unless you want your face in all the tabloids.
But regardless of what life is like for Princess Charlotte as she gets older, it's pretty clear that her grandmother is totally smitten with her, even if she doesn't have her face on a stamp. The youngest royal was photographed sitting in the Queen's lap in a special portrait shot by Annie Leibowitz to celebrate the monarch's birthday, according to TIME (Prince George, and five of the Queen's other grandchildren are also in the shot). And although she might not have as much official significance as her brother, there's no doubt that she's one very well-loved little girl.