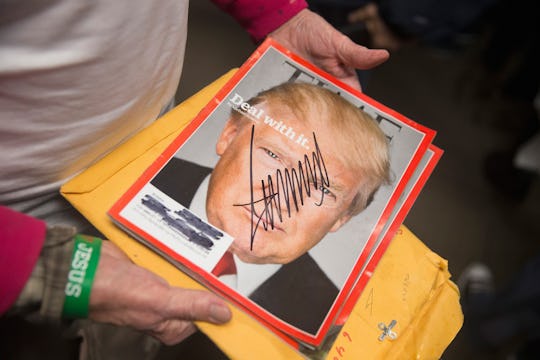 Scott Olson/Getty Images News/Getty Images
Why Being The 'TIME' Person Of The Year Isn't Necessarily A Good Thing
TIME magazine has named President-elect Donald Trump Person of the Year for 2016, and predictably, some people are up in arms about it. But TIME's Person of the Year isn't an award or an honor; it's merely a distinction, and one that Trump absolutely deserves (and I say that as someone who despises the man). TIME's criteria for Person of the Year is whomever was the most newsworthy. As the magazine's Deputy Managing Editor Radhika Jones explained in 2014, "Ideally, we want our Person of the Year to be both a snapshot of where the world is and a picture of where it's going. Someone, or in rare cases, something, that feels like a force of history." Like it or not, Trump fits that bill perfectly.
The Person of the Year isn't always someone to be admired. In fact, sometimes, it's not even a person at all. In the past, TIME has named groups, inanimate objects, and even vague concepts as its Person of the Year. In the 89 years that TIME has kept the tradition, it has named "The Computer," "The Ebola Fighters," "The Endangered Earth," "The Whistleblowers," "The Protester," "The American Fighting-Man," and "You" as Person of the Year.
And then there are the bad guys. Yes, Adolf Hitler really was TIME's Man of the Year (as the annual feature was called at the time) in 1938. That's because the title is bestowed upon "the person who most affected the events of the year, for better or for worse," according to TIME's 2001 managing editor. Kelly noted that the title was never meant to be an honor. And although TIME polls its readers on who the Person of the Year should be, the votes are non-binding.
In addition to Hitler, TIME has also named Ayatollah Khomeini, Joseph Stalin, and Nikita Khrushchev Person of the Year. As far as controversial U.S. figures go, President Richard Nixon was chosen two years in a row. And the tradition of naming an unpopular person isn't a throwback, either; Russian President Vladimir Putin was chosen in 2007. Given that you'd be hard-pressed to find a person who hasn't heard of Trump, and indeed, doesn't have a very strong opinion about him, it's obvious that he's one of the most talked-about people of 2016, and the ways in which he's changed the political landscape of not just the United States, but the entire world, can't be denied. As far as honors go, Dwayne "The Rock" Johnson is still People's Sexiest Man Alive, but the name we'll all recall when our grandchildren ask us what 2016 was like will undoubtedly be Trump.