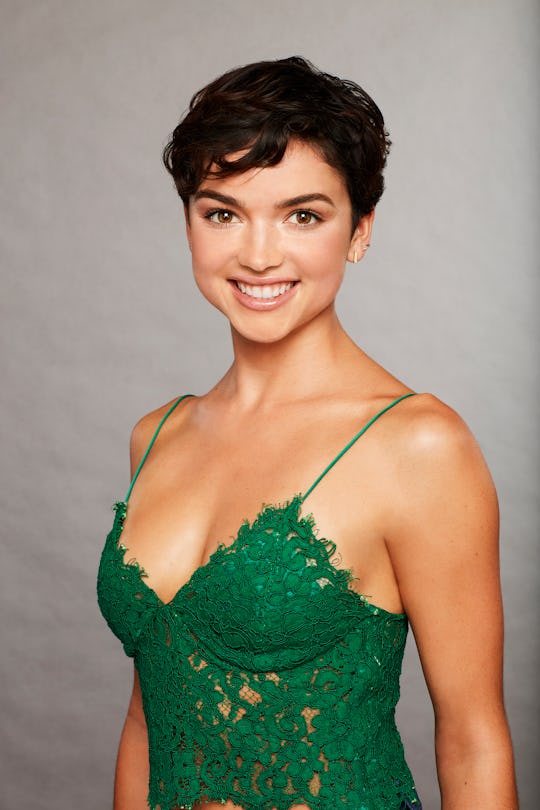 Craig Sjodin/ABC
Bekah's Age On 'The Bachelor' Shouldn't Be Important & Here's Why
With every new season of The Bachelor comes a new crop of women hoping to win one lucky man's heart. This time around, everyone seems particularly focused on one contestant, Bekah M., and the significant age gap between herself and Arie Luyendyk Jr., who is 36 years old. But here's why Bekah's age on The Bachelor doesn't matter — at least, it doesn't matter in the way many people (particularly the other women on the show) seem to think it does. While the difference in ages of all the contestants is certainly worth considering, Bekah's relative youth should not be used as a means of denigrating her or as a tool for bullying.
Bekah is 22 years old, and the youngest woman on the show this season. Though her age does not appear below her name on screen as it does for the other women, it is clearly still a point of contention both within the drama of the show and in discussions of it on the great wide internet. In previews for the coming season, the other women are heard making disparaging remarks about her age, and speculating that it will be a problem for her relationship with Arie. "I wonder if her age is going to be a deal-breaker," one woman is heard saying. In an interview segment Chelsea opines, "I think she is reluctant to tell Arie how old she is."
Put simply, Bekah is an adult woman. And as such she has the right to make her own romantic decisions and the decision to take part in the show. The Bachelor requires contestants to be at least 21 years old, and Bekah is far from the first 22-year-old woman to be a part of The Bachelor. Furthermore, in just one episode, Bekah has proven herself to be far more emotionally mature, eloquent, and interesting than many seem to believe her age suggests. Bekah, as a human grown-up, deserves to be treated with the same respect that any other human grown-up does.
Personally, I am fundamentally opposed to slighting and trivializing women based on superficial things like dress-size, vocal tics, and yes, age. That being said, The Bachelor has a habit of casting female contestants who are significantly younger than the man whose heart they're vying for.
Arie is 36 years old. Of the 29 women competing on the show, only six are 30 or older. The oldest of these women is 33. I'm all for having younger women be on the show, but I'm not going to lie — it is frustrating to see an older man dating only younger women. Why not throw in a few women his age or (God forbid) women who are older?
Last season's Bachelorette, Rachel Lindsay, made history not only for being the franchise's first black lead, but also because she was the oldest Bachelorette ever featured at 32 years old. Meanwhile, Bachelor picks remain more on the older side, with Season 6's Byron Velvick being cast when he was 40. So yes, do I wish that more older women were cast on the show? Absolutely. But that doesn't mean that I think the younger contestants should be punished or ridiculed based on their date of birth. Bekah deserves better than that.
Us Weekly reported a source saying that age would be a significant factor in this season's drama. "The show hasn't really tackled age in a way like it does this season," the source told the outlet. "It's the younger women versus the older women."
Pitting women against each other based on age is just another way of reinforcing this unfortunate trope, and is a really disappointing way for the show to address the issue. For what it's worth, in the same article Arie addressed his thoughts on the age difference between him and the contestants, stating, "I've dated younger, I've dated older, so yeah, that's something that definitely I think plays a theme throughout the season, but it's just more about being ready, that's the most important part, being ready to get married."
Is Bekah ready to get married? Well for that I guess we'll just have to watch the show to find out. But if she is and if she and Arie share a genuine connection, then who are we to stand in the way?
Check out Romper's new video series, Romper's Doula Diaries:
Watch full episodes of Romper's Doula Diaries on Facebook Watch.