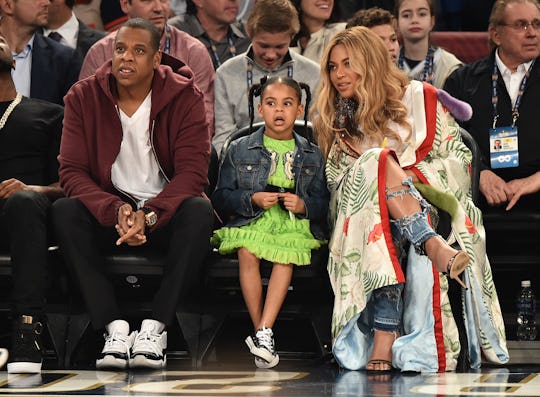 Theo Wargo/Getty Images Entertainment/Getty Images
Beyonce Had The Most Relatable Worry About Blue Ivy Before The Twins Arrived
When it comes to introducing new babies to a family, most parents worry about sibling rivalry and jealousy. And as it turns out, even celebrity royalty aren't exempt from those concerns. In fact, according to a new People report, Beyoncé was reportedly worried about Blue Ivy feeling left out once the twins arrived. However, unnamed sources reportedly told the magazine that Blue Ivy has already bonded with Sir and Rumi, and that she's settled happily into her role as a big sister.
"Beyoncé has been very busy with the newborns, but she's also been able to relax a bit. It's helped her that Blue has been such an amazing big sister," the source reportedly told People. "She takes her job as a big sister very seriously and helps out a lot."
Back in July, Blue Ivy's grandmother, Tina Knowles, also praised how easily the 5-year-old had adapted to life with siblings. "She's very proud and very excited," Knowles told Entertainment Tonight. "She's a good big sister, she really is."
According to People's unnamed source, Beyoncé reportedly made sure to spend plenty of time with her daughter prior to the twins' arrival. Now, according to multiple reports, it seems like Blue Ivy is spending her own fair share of time with her new siblings, helping her mother out and bonding with the twins.
Regardless of whether a mom is actually Beyoncé or just one of us common folk, worrying about introducing a second child (or children) is fairly commonplace. After all, a first-born who has had their parents' attention all to themselves for a few years might feel upstaged by the arrival of new siblings or hurt by their mother's sudden lack of time for them.
According to Dr. Jenn Berman, author of The A to Z Guide to Raising Happy, Confident Kids, Beyoncé took the right approach by giving Blue Ivy some solo time prior to the twins' birth. "Most toddlers and preschoolers feel very conflicted about a new sibling," Berman told Parents in 2014. "One-on-one time with your older child is the best antidote to her fear of abandonment."
By giving Blue Ivy a lot of attention — while also sharing their excitement with her about having new siblings for her to bond with — it seems like JAY-Z and Beyoncé managed to get their oldest child excited about having a new brother and sister. And now that they're here, it sounds like she's nothing but excited to have Sir and Rumi in her life. Now, all we need is some picture proof of the adorable sibling trio. (Pretty please, Beyoncé?)