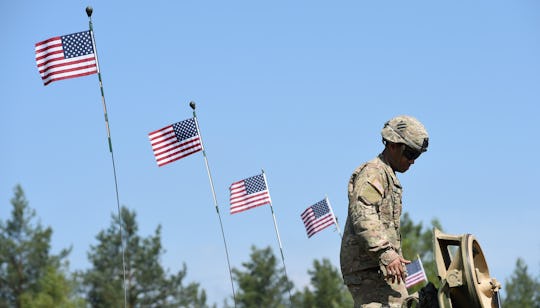 CHRISTOF STACHE/AFP/Getty Images
Why California Guard Members Are Being Asked To Repay Bonuses
Nearly a decade ago, when the United States military was in need of fresh faces and higher recruitment totals, it promised bonuses to soldiers who reenlisted. Unfortunately, those same California guard members are now being asked to repay those same bonuses promised to them years ago. It's a complicated, and unfortunate situation for many, especially given that many are now incurring interest on those repayment totals and being told they give it all back.
According to The Los Angeles Times, thousands of soldiers were given bonuses of $15,000 or more to reenlist – and now, years later, the Pentagon is asking for that money back. Apparently, the current situation is a result of prior mismanagement by California Guard officials, who were under pressure to enlist soldiers, as reported by CNN.
The California Guard released the following statement to the news outlet, writing,
The bonus audit and recoupment process is a federal program governed and adjudicated by the National Guard Bureau and the Department of the Army. The California National Guard does not have the authority to unilaterally waive these debts...
...However, the California National Guard welcomes any law passed by Congress to waive these debts. Until that time, our priority is to advocate for our soldiers during this difficult process.
As CNN reported, retired Master Sgt. Toni Jaffe, the California Guard's incentive manager, pleaded guilty in August 2011 to "making a false claim against the United States," according to a statement released by the FBI. Jaffe was sentenced to 20 months in federal prison for submitting $15.2 million dollars in false and fraudulent claims, the statement read.
Apparently, a good number of soldiers took up the bonus offer, but as it turns out, were not actually eligible for the bonus. And now they're paying the price. As the Times reported, thousands of veterans have been ordered to repay the enlistment bonuses, with additional interest charges to the Defense Department.
"These bonuses were used to keep people in," Christopher Van Meter, a former Army captain and Iraq veteran from Manteca, California told The Los Angeles Times. "People like me just got screwed."
A number of California elected officials have spoken out against the repayment. California Sens. Dianne Feinstein and Barbara Boxer have released a combined statement urging the Defense Department to waive the repayment, CNN reported:
They (soldiers) accepted these incentive payments in good faith and at the height of the Iraq War, when the Department was having difficulty retaining service members...
...Many of these individuals paid a heavy price for their service — including severe injuries sustained after reenlisting. Now they are facing interest charges, wage garnishment, tax liens, and other penalties.
Jeff Davis, a spokesperson for the Defense Department, told CNN that the military only has the authority to "waive individual repayments on one by one basis."
Over on Twitter, users erupted in anger over the fact that veterans were being forced to repay these decade-old bonuses:
According to CNN, House Majority Leader Kevin McCarthy of California, who is also opposed to the repayment, had this to say about the situation:
...We are the ones who owe a debt for the great sacrifices our heroes have made.