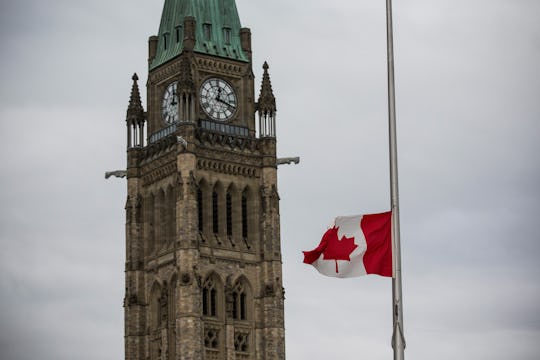 Andrew Burton/Getty Images News/Getty Images
The Quebec Attackers' Religion Doesn't Matter
At least six people are dead and another 18 injured in a shooting attack on a mosque during evening prayer services in Québec City, Canada, on Sunday night. According to CBC News, two men have been arrested in connection with the shooting. Prime Minister Justin Trudeau said in a statement Sunday night, "We condemn this terrorist attack on Muslims in a centre of worship and refuge." That Trudeau called the Québec mosque shooting terrorism is important, even as details about what happened Sunday night continue to emerge from victims, witnesses, and Canadian authorities.
"Muslim-Canadians are an important part of our national fabric," Trudeau's statement on the mosque shooting continued. "These senseless acts have no place in our communities, cities and country." Québec's provincial Premiere Philippe Couillard has also called Sunday's attack on the Quebec Islamic Cultural Center a terrorist attack. A tweet translated into English posted by Couillard read, "As a result of this terrorist act, I asked the #assnat to put our flag of the #Québec in Bern." While motives remain unclear, this kind of senseless violence is right to be labeled terrorism, no matter religious identity of the victims or the perpetrators.
According to FOX News, the two terror suspects arrested in connection with Sunday's terrorist attack on the Québec City mosque are Mohamed Khadir and Alexandre Bissonnette. Little more information has been released by Canadian authorities other than they are males who are in their 20s or 30s. While their religious identity has also not been made public, an unnamed witness to the mosque alleged yelled "Allahu akbar!" This has led many people to say that the attack is actually not terrorism and is instead "Muslim on Muslim crime."
It's important to remember that there is no evidence these attackers were Muslim. Even if they claimed to practice Islam, their views are radical, and do not represent the true teachings of Islam. The vast majority of terrorist attacks in both the United States and Canada are not carried out by Muslims. First, take a look at the total number of terrorist attacks in Canada since 1970:
Of those attacks, the vast majority were not carried out by Muslims. The deadliest terror attack in Canada's history was actually carried out by Inderjit Singh Reyat, a Sikh extremist from British Columbia. Reyat built bombs that killed 329 people on Air India Flight 182 after it departed from Toronto Pearson International Airport in 1985. Reyat was released from prison earlier this week.
But what about the United States? According to a report from the Triangle Center on Terrorism and Homeland Security at Duke University, only 46 Muslim-Americans were associated with violent extremism in the United States in 2016. Further, a more illuminating statistic: The majority of Muslim-Americans involved in violent extremism in the United States since 2001 were actually self-proclaimed Muslim converts — not immigrants or U.S. citizens who were born Muslim.
It shouldn't matter whether the terrorists involved in Sunday's attack on a Canadian mosque may or may not be Muslim — the majority of terrorist attacks in the United States and Canada simply aren't perpetrated by Muslims. But calling it terrorism is still important and necessary, given the senselessness of the act itself and the fact that it targeted a group of people in the establishment they practice their religion freely.