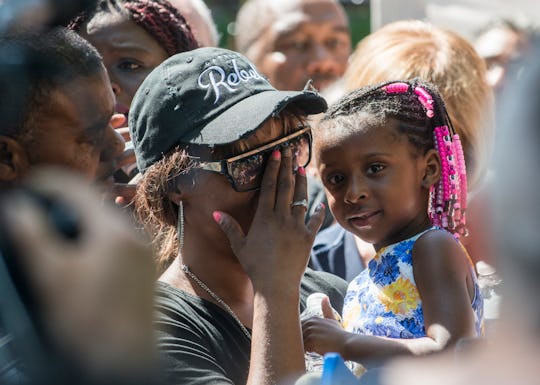 Stephen Maturen/Getty Images News/Getty Images
Why Diamond Reynolds' Daughter Really Is The Bravest Little Girl In The World
After Philando Castile was shot by a police officer during a routine traffic stop in Minnesota last week, his girlfriend, Diamond Reynolds, pulled out her phone and started filming, uploading the unbelievable footage to Facebook Live, and sparking further national outrage over police brutality only one day after Louisiana man Alton Sterling was also shot and killed by police. That video sent shockwaves around the world for what feels like an unlimited number of very important reasons, but there was one that stuck out especially: the moment when, according to The Daily Beast, Castile and Reynolds' 4-year-old daughter, Dae'Anna, can be heard comforting her devastated mother, saying, calmly, "it's OK, Mommy. It's OK, I'm right here with you." That unfathomable moment — a moment that most full-grown adults can barely even stomach — is why Diamond Reynolds' daughter really is the bravest little girl in the world, and is also a stark reminder of why becoming desensitized to events like Philando Castile's death absolutely should not happen.
Reynolds' video is, of course, brutal to watch. It's hard to even wrap your brain around the images and sound of Castile lying, limp and wounded in the driver's seat in a blood-soaked t-shirt, and then to see and hear Reynolds explaining what had happened, preternaturally calmly, to the phone's camera while the officer in question still has his gun pointed through the window. It's horrendous, but also doesn't feel quite real — until, that is, Dae'Anna pipes up from the backseat.
That's the moment when, for a lot of people, the horror of what the video is actually showing clicked in. Hearing her little voice, I found myself sobbing instantly, and though I won't ever watch that video again, the sound of Dae'Anna consoling her mother feels like it will be permanently etched in my memory. In that moment, Dae'Anna was all of our daughters, a little girl who should never have had to see or hear what she had just seen and heard, let alone ending up without a father figure as a result of it.
But, in a way, it also felt like more than that. Just as Reynolds' incredible calm following the shooting stands out in an almost-unbelievable kind of way, Dae'Anna's own calm, and deep desire to do something — anything — to help her mom feels like an emotional sucker punch. Partly because it is so sad, and so kind — so pure amongst what is otherwise so terrible and unfair. But also partly because, it likely says a lot about the type of parents Reynolds and Castile were together.
Most parents of young children have spent time wondering whether what they are saying and doing, the messages they are trying to send to their kids, and the role models they are trying so hard to be, is really sinking in. Are they getting it? Are they picking up on what we want them to know about the world and their place in it? Do they get how much they are loved? Most of the time — at least when children are young, like Dae'Anna — it can be hard to know for sure, because they still live in their own ego-centric worlds, still responding as much on instinct as learned behavior. But every now and then they say or do something that makes you realize that they are listening, that they are picking up on all of it, on everything. That's why it's hard to hear Dae'Anna say, "it's OK, Mommy. I'm right here with you," without simultaneously understanding that that's most likely exactly the type of thing her parents said to her a million times before in her own short life.
According to Jezebel, Reynolds told The View that she filmed the aftermath of Castile's shooting because she,
Really wanted to make sure that no matter what, my side, his side, our side of the story could be viewed by the people...I just wanted the people to know that these incidents do happen and we don't bring them on ourselves. It's just so that people could be aware of situations like this.
It's remarkable not only that she was able to even think that, but also that she was able to do so with so much calm and reservation, though trauma expert Jim Hooper told The Washington Post that in a scenario like that, it's not entirely surprising. Suggesting that Reynolds was in a "dissociative state" while filming, he explained, "people are literally not feeling in their body what's going on. That circuitry can basically shut down. This is the brain on horror."
Her brain might have been playing a big part in helping her stay so calm, but according to The Washington Post, Reynolds said that Dae'Anna also had a lot to do with it.
My daughter told me stay strong, and that's what I had to do. My daughter told me, 'Don't cry,' and that's what I had to do. My daughter prayed for me.
Neither Reynolds nor her daughter (or Castile, for that matter) deserved anything even close to what they went through in that car one week ago. But their ability to capture it on video, to show the world what happened, was beyond courageous. Dae'Anna, for one, certainly seems to take a great deal after her mother.