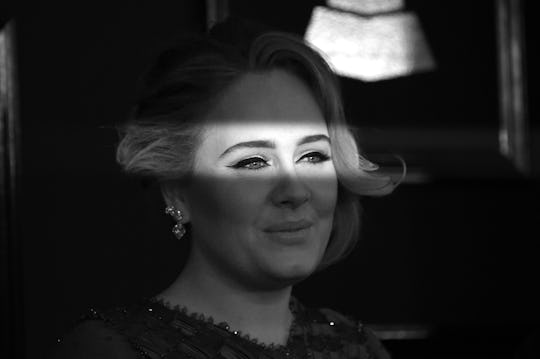 Frazer Harrison/Getty Images Entertainment/Getty Images
Why'd Adele Start Her George Michael Tribute Over?
Midway through her tribute performance to George Michael, Adele abruptly cut the performance short and asked to restart the song. So why did Adele start her George Michael Grammys tribute over? She wanted to do the artist justice, of course. About 30 seconds into the performance, Adele said,
I know it's live TV, I'm so f*cking sorry. I can't do it again like last year. I'm sorry for swearing, and I'm sorry for starting again. Can we start it again? I'm sorry, I'm sorry, I can't mess this up for him. I'm sorry. I can't. I'm sorry for swearing. I'm really sorry. I'm sorry, Ken.
At that moment, the crowd rallied around the star in a show of support and encouragement while the singer took a deep breath to restart her tribute performance of "Fastlove" to honor the late musician who died on Christmas day in 2016. Though it would've been simple for Adele to gloss over the flub she made during the song, she wanted to do the late performer justice and so she paused, asked to start over, and she began again. For some Twitter users, the moment was the embodiment of the "nevertheless, she persisted" quote — the line delivered by Senate Majority Leader Mitch McConnell in reference to Massachusetts Sen. Elizabeth Warren.
At least year's Grammys, Adele's microphone dropped out on the piano keys, which caused a momentary — but noticeable — audio gap. Following the performance, Academy President Neil Portnow said:
We had the most complicated show on television. Period. End of story. With each musical performance, we change over the microphones, the wires. I mean, if you've been backstage — I can't understand how they get it done, but they do.
Adele later discussed the moment on Ellen by clearing up what she'd do on stage if this ever happened again. She told Ellen DeGeneres:
Next time I have any sound issues, I am going to start over. [I will tell them,] 'Sorry, that's not working for me.' Otherwise… bye! In fairness, I would have cried if it went really well. If it was a standout performance, I would have cried as well. I always cry. I was so embarrassed...It can't get much worse than the Grammys.
Although tonight's moment didn't exactly go the way she wanted it to, you have to give credit to Adele for holding the performance close to her chest and making the right call for herself and for the memory of the artist she was paying tribute to. She did it on her own terms — that's what matters.