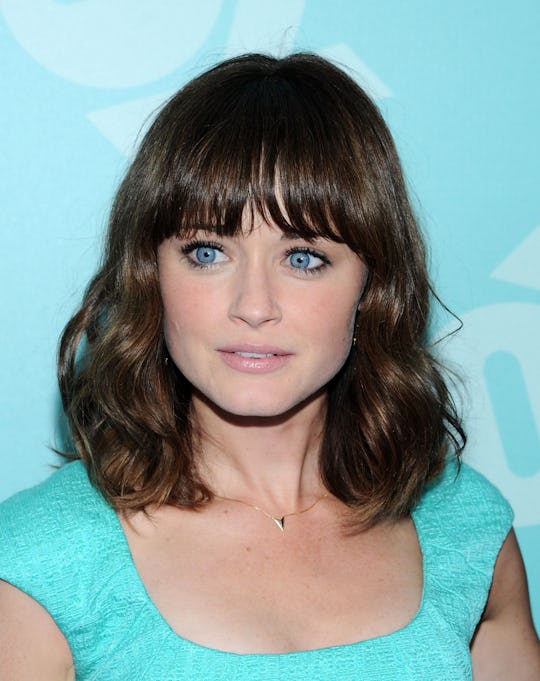 Ilya S. Savenok/Getty Images Entertainment/Getty Images
Why Did Alexis Bledel Hide Her Son? Truth Is, It's None Of Our Business
It may seem impossible in this day and age, but yes, the recent news is true: 34-year-old actress Alexis Bledel had a baby boy at some unknown point in the fall of 2015, and nobody knew about it—and by "nobody," I mean fans and other folks who aren't personally acquainted with Bledel. Fans on social media, though, are understandably wondering why Alexis Bledel hid her pregnancy and infant son from the prying eyes of the public. The fact is, we don't know for the very same reason we didn't know about the pregnancy—Bledel and her husband, former Mad Men star Vincent Kartheiser, aren't talking about it publicly.
News of Bledel and Kartheiser's son first broke in May, when Bledel's Gilmore Girls colleague, Scott Patterson, made a comment about Bledel's son in passing during an interview with Glamour. "She's really blossomed as a woman and now she's a proud new mother and married and happy," Patterson said. In response, the celebrity news world did a double take: Patterson said what? Shortly after the Glamour article was published, Bledel's rep confirmed to People that the baby had arrived last fall.
It's tough to wrap one's mind around the concept of an actress going through an entire pregnancy without sharing the news with fans, and then cuddling a hopelessly adorable little baby without sharing photos on Instagram. And Bledel even has an Instagram account! Granted, she's following only 11 people, and there are only 160 posts, but it's there, and there are zero baby photos on it. As for her Twitter account, she hasn't posted since June 2015. ‌
Bledel's secrecy about her pregnancy is consistent for the actress, who doesn't typically do interviews about her private life, according to People. Her marriage to Kartheiser, who she met in 2012 while guest-starring on season 5 of Mad Men, was kept largely under wraps. There was no big engagement announcement to the media, and their June 2014 marriage ceremony was a private event. The public's first public appearance was at the 2016 Screen Actors Guild Awards, pictured below on Bledel's Instagram account. ‌
For long-time fans of Gilmore Girls — which aired for seven seasons between 2000 and 2007 and will soon have a revival season on Netflix — the news about Bledel was only relevant insofar as the pregnancy might affect the storyline of the series' revival season. Everyone quickly did the math—if Bledel's son was born in the fall of 2015, does this mean that Rory Gilmore, Bledel's character, will be pregnant?
Despite fan excitement and/or panic, it appears that no, Bledel would have already had her baby when filming for the Netflix revival begin in February 2016. So while it's theoretically possible that Rory will be pregnant, it would be entirely for the sake of the story line, and not because the actress playing her is pregnant.
As for Bledel and Kartheiser's preference for privacy, this proclivity will probably continue, even during the media storm that will surely accompany the Gilmore Girls season on Netflix. In a 2014 interview with Vulture, Kartheiser explained that he doesn't like talking about his relationship with Bledel because that "cheapens it; it weakens it. And it's magical, love, and all of that is … profoundly spiritual, and it just doesn't feel right."
It's hard to argue with that, even if it means we don't get to see photos of their baby, who is surely an extremely adorable little nugget.