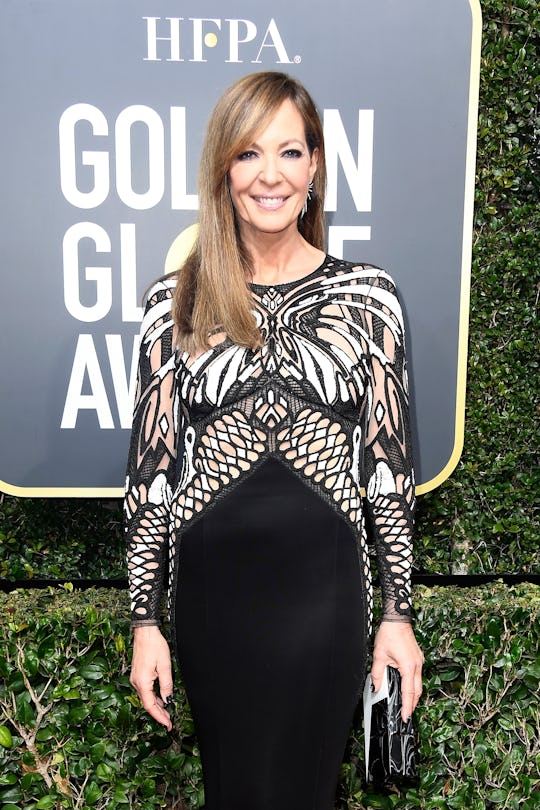 Frazer Harrison/Getty Images Entertainment/Getty Images
Allison Janney Made An Interesting Fashion Statement At The Golden Globes
I think it's safe to say that the 2018 Golden Globes will be best remembered for actresses wearing all black in solidarity with the Time's Up movement. However, I, Tonya actress Allison Janney took it to a whole different level with a very feathery fashion statement. So why did Allison Janney wear a bird at the Golden Globes anyway? Twitter had a fun time with it.
If you're not well versed in Tonya Harding's life or haven't seen the movie, the bird actually has quite the starring role. Way back in 1994 when the IRL Harding story was dominating headlines, her mother, whom Janney plays in the film, emerged as *quite* the character in the plot that ended up destroying her daughter's career.
But, it wasn't until LaVona Golden appeared in an ESPN interview in 2014 with a huge fur coat and a little bird perched on her shoulder that her place in pop culture history was really solidified.
It was this look that Janney recreated for scenes of the film, so the little bird on her shoulder while presenting an award on Sunday was a nod to the role. It must have been good luck, since she won the Golden Globe for Best Supporting Actress in a Film not even 10 minutes later. (Though by then she removed the bird, which is really a shame.)
Twitter Was Loving The Look, Even If Some Missed The Joke
Hilariously, Janney didn't forget the little bird in her acceptance speech even though it wasn't on her shoulder the second time she took the stage on Sunday night. At the very, very end of her speech she added, "I owe this all to a bird named Little Man in Smyrna, Georgia." You think he was watching? I'm going to pretend that he was chirping the whole time.
She really did have a bond with that little bird, BTW. While promoting the film at the Toronto Film Festival last year, she told the Huffington Post, "I tried a couple birds, and I picked Little Man, which is not his real name, but that's what I called him. I gotta find out what his real name is because he's one of my favorite scene partners I've ever worked with."
Janney added that she really wanted to make the scenes as authentic as possible, by channeling Golden's relationship with the little bird. The Mom star said:
I knew it was my job to make it look like I had a relationship with the bird, that we'd been together for a long time. I couldn't look ruffled, if you will, by anything this bird did. And believe me, he did a lot. I mean, you saw him trying to eat out my ear.
The film is a complicated one, if only because the real story of Tonya Harding, and especially her troubled relationship with her mother, is so complicated. Janney told Vice that she tried to humanize Golden, even though her legacy is that of an abusive mother. Janney said:
She worked very hard to get herself out of the life she was in, and everything failed. Then she had this daughter with this talent, so every penny she made working as a waitress went to Tonya's skating. She was going to make sure she rose to the top, despite all the odds because the skating world did not embrace her.
In her acceptance speech, Janney thanked Harding for sharing her story. "What I love about this movie… what this movie did is tell a story about class in America, tell a story about the disenfranchised, tell the story about a woman who was not embraced for her individuality, tell a story about truth and the perception of truth in the media and truths we all tell ourselves," she said. "It's an extraordinary movie and I'm so proud of it."
The movie certainly did all of that. But without the bird? It would have been half the film it was. Cheers, Little Man!
Check out Romper's new video series, Romper's Doula Diaries:
Watch full episodes of Romper's Doula Diaries on Facebook Watch.