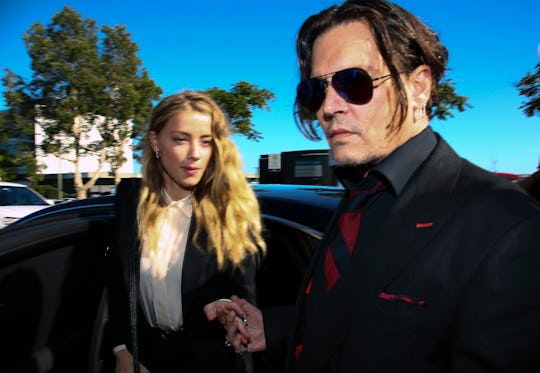 PATRICK HAMILTON/AFP/Getty Images
Why Did Amber Heard File For Divorce From Johnny Depp? They're Reportedly On The Rocks
In a disheartening report on Wednesday, TMZ claimed that actress Amber Heard had reportedly filed for divorce from husband Johnny Depp. The two have been married since February 2015. Anonymous sources who spoke to the outlet claimed that Heard had cited "irreconcilable differences" in her court documents.
The alleged split comes just three days after Depp's mother passed away, according to TMZ. The anonymous sources claimed that the couple did not have a prenuptial agreement and that Heard was asking Depp for spousal support, though they did not specify an amount.
Heard and Depp's relationship first began back in 2012, after working together on the film The Rum Diary (Depp portrayed the film's lead character, journalist Paul Kemp, and Heard played Chenault, the wife of a wealthy businessman, and the woman with whom Depp's character fall in love). The couple was largely private, although never afraid to put on public displays of affection, as PopSugar's Brittney Stevens noted on Wednesday.
The sources that spoke with TMZ this week declined to comment further on the divorce proceedings and did not elaborate on exactly which "differences" Heard had cited that were so "irreconcilable" as to prompt a formal split — although, in Heard's defense, it hasn't exactly been an easy year.
Back in May 2015, Depp and Heard found themselves embroiled in a scandal (which the public lovingly dubbed "Terriergate") after the couple were accused of failing to declare their two Yorkshire Terriers Boo and Pistol on Australian customs forms. According to the BBC, the Heard and Depp had reportedly violated Australia's "strict animal quarantine laws [which] prevent [travelers from] importing infections." The slip-up was discovered after a photo of the dogs being groomed a a nearby pet salon was posted online.
Though Depp and Heard managed to escape any serious consequences, Heard was later made to appear in court, where she plead guilty to "falsifying quarantine documents" for the two dogs — a significant step down from the original charges levied against her, which included "two charges of illegal importation of an animal and one count of producing a false document," according to the state-owned Australian Broadcasting Corporation (ABC).
For his part, Depp seemed to escape the brunt of the consequences, appearing in a subsequent apology video — which was played in court and posted to the Australian government's official YouTube page, and, as The New York Times joked, was "awkward and quite excruciating to watch" — and nothing more, at least of which the public is aware.
Despite their nearly five year relationship, though, could something as burdensome as "Terriergate" really have put enough strain on the couple's marriage to bring it to a screeching halt? It's hard to say. Whatever the case, it certainly didn't help.
For a couple that previously seemed relatively drama-free (outside of the "War on Terrier" of course), news of Heard and Depp's divorce seems a little out of left field. For now, all that fans of the mysterious duo can do is wait for Depp's film Alice Through the Looking Glass to premiere this weekend. Hopefully it will help keep everyone from getting too disheartened.