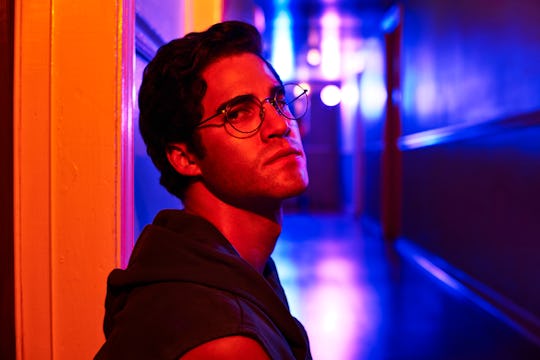 Pari Dukovic/FX
'The Assassination Of Gianni Versace' Explores His Killer's Motives
Though it's Gianni Versace's name in the title of the new season of American Crime Story, it seems the bulk of the story actually follows the man who killed him: Andrew Cunanan. His own sudden death meant that understanding his motives would always be impossible, though that doesn't mean others haven't attempted to figure it out. So why did Andrew Cunanan kill Gianni Versace? One can only guess, though The Assassination of Gianni Versace will try to delve into what led Cunanan to kill the fashion designer as well as his other four reported victims.
Versace's murder seemed so random at first that some speculated it was a professional hit, or perhaps a mafia killing. But there was a witness who claimed to have seen Cunanan at the scene of the crime because it occurred in broad daylight early in the morning. According to the Chicago Tribune, Merisha Colakovic had just dropped her daughter off at school and was walking home when she saw someone waiting by Versace's home. "I thought it was an admirer or someone who knew him because he sped up to reach Versace," she said in a statement to the police. After Cunanan shot Versace, Colakovic said, "The murderer walked backwards from the steps. He placed his gun in the bag he carried which was open and continued on his way down the street as if nothing had happened. Very calm. He had a Donald Duck walk."
The Tribune article goes on to say that Colakovic pointed Cunanan out to three unnamed men who emerged from Versace's house; they chased but did not catch him. Despite the witness testimony, it doesn't seem like Cunanan became officially connected until after his own death. Eight days after killing Versace, Cunanan committed suicide in the houseboat he had been hiding out in. He didn't leave anything behind that hinted at why he did what he did, but, according to the Chicago Tribune, the gun Cunanan shot himself with was the very same one used in Versace's murder and the murder of two of his other reported victims, David Madson and William Reese.
The timeline of Cunanan's crime spree had to be pieced together in the aftermath with no help from him. Cunanan wasn't there to provide insight or explanations, and because he died, he could never be officially convicted. Many have sought to understand what led him to murder, and The Assassination of Gianni Versace explores his perspective over the course of its nine episodes. But without the man himself to offer answers, one can only guess.
The Versace family released a statement saying they had no involvement in the show and had not authorized it nor the non-fiction book it was based on. Because of that, they felt that the FX series "should only be considered as a work of fiction." In response, 20th Century Fox and FX said that the book that inspired the show, Maureen's Orth's Vulgar Favors, was "heavily researched and authenticated" and they "stand by the meticulous reporting of Ms. Orth." Still, there are many unknowns when it comes to what went on in Cunanan's mind.
Recently, a retired detective named Paul Marcus, who had been one of the chief investigators on the murder, told the Miami Herald:
It was the case of a lifetime, but to this day, we don't know why it happened. I think Cunanan wanted to go out with a bang, and what better way to go out with a bang than killing an international figure. But we're never going to know — never, ever.
Cunanan was described by those who knew him as well-dressed, charming, and intelligent, but he was also a pathological liar. Town & Country reported that he would create fake identities or false backstories for himself, and the sister of Cunanan's first victim Jeff Trail, Lisa Stravinskas, elaborated on that for The Washington Post. She claimed that Cunanan told her that he had grown up in Israel and was the son of Russian immigrants; he even provided photographs of people he said were his wife and daughter. None of it was true.
He may have met Versace once, either at a club or at the opera, but that hardly provides an explanation for murder. In her book Vulgar Favors, Orth put forth the idea that Cunanan became fixated on Versace after that brief meeting because, according to a New York Times book review, he "loved to gloat about" it. Promotional material for The Assassination of Gianni Versace seems to indicate that Cunanan was envious of Versace and viewed him as a representation of everything Cunanan wanted but did not have, like wealth, fame, and opportunity. However, this could just be the show's interpretation.
Other motives have been suggested over the years. According to Time Magazine, a friend of Cunanan's told the FBI that Cunanan was interested in someone in Versace's entourage and thought jealousy "might have set off his next violent explosion." But all of that is just speculation. The Assassination of Gianni Versace may try to get into Cunanan's mindset, but it's impossible to know why he chose to shoot Gianni Versace.
Check out Romper's new video series, Romper's Doula Diaries:
Watch full episodes of Romper's Doula Diaries on Facebook Watch.