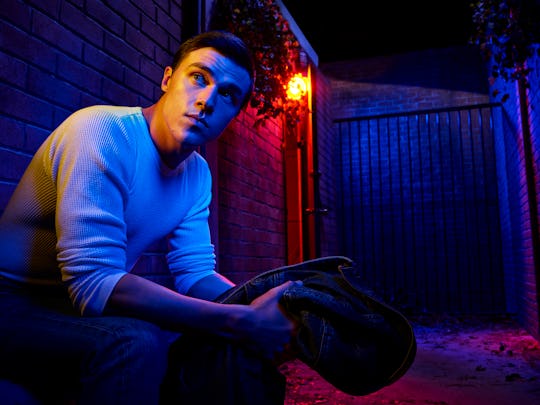 Pari Dukovic/FX
Jeff Trail Shared An Interesting History With Andrew Cunanan
Andrew Cunanan's murder spree ended with the death of Gianni Versace, but it began in late April 1997 when he took a trip to Minneapolis and beat his friend Jeff Trail to death with a claw hammer. But what led Cunanan to inflict such horrors on someone he claimed was a friend? Why did Andrew Cunanan kill Jeff Trail?
Determining Cunanan's motives is all guesswork, because he killed himself shortly after murdering Versace; he never shared his reasons with anyone still living, and he is not around to provide any explanations now. People can only look at his actions leading up to the crimes and try to connect the dots in a way that makes logical sense, like The Assassination of Gianni Versace attempts to do.
Trail was a naval officer whom Cunanan met and befriended during the time they both lived in the San Diego area. In Vulgar Favors, Maureen Orth's book about Cunanan and his murders, Trail is described as handsome, responsible, and well-liked. A friend of his named Liz McDonald is quoted as saying, "You just liked him instantly. He was warm and made you feel at ease. If Jeff was your friend, he was your friend for life."
It seems as though Cunanan was envious of Trail, at least based on the accounts of two people who knew them both: Trail's ex-boyfriend Daniel O'Toole and his sister Lisa Stravinskas. O'Toole told Orth that Cunanan had gotten a haircut just like Trail's once and it seemed to him that "he was copying a lot of Jeff's looks." Stravinskas said something similar to The New York Times:
When Jeff got a haircut, Andrew had to have the exact same haircut. When Jeff went to San Francisco and got a certain style of baseball cap, Andrew had to go to San Francisco and get the very same cap. When Jeff grew a goatee, Andrew grew a goatee.
Their friendship was not without tension. O'Toole also told Orth that Trail continued to be friends with Cunanan because he felt bad for him; while Cunanan considered Trail to be his best friend, Trail did not feel the same way. They would regularly go through periods where they would argue and then make up, a cycle that seemed to repeat throughout their relationship. An unnamed naval officer who knew Trail said in Vulgar Favors:
Andrew was the typical life of the party, and Jeff liked to party. But there were times when it wasn't all roses. There were a lot of times when Andrew could get on your nerves after a while. Then Jeff would have Andrew butt out, and then they'd go to diner and make up. Things were back to normal again.
Trail relocated to Minneapolis for a job, which put him in close proximity to someone else Cunanan cared for: his ex-boyfriend David Madson, who would become his second victim. In Vulgar Favors, it was reported that Cunanan was uncomfortable having them in the same city without him there. The weekend of Trail's murder, Cunanan had been visiting, telling friends only that he had "unfinished business" with Trail, according to Newsweek. What that business was remains unclear. Was he obliquely referencing his intentions, or did they have some actual business to attend to?
Vulgar Favors put forth a few possibilities: a friend named Robbins Thompson heard that Trail owed Cunanan money, while another theory is that Trail could have been involved in drug dealing that Cunanan allegedly took part in. Cunanan might have been motivated by jealousy and rejection, especially if distance and repeated fights had put even more of a strain on their friendship. There is no singular instance that set Cunanan off — at least not one that has become public knowledge. His true motives will always, unfortunately, be a mystery.
Check out Romper's new video series, Romper's Doula Diaries:
Watch full episodes of Romper's Doula Diaries on Facebook Watch.