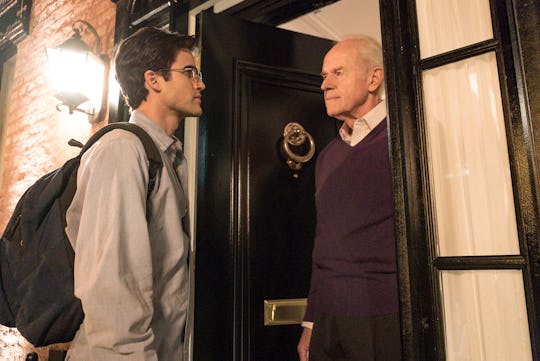 Matt Dinerstein/FX
'American Crime Story' Examines The Connection Between Andrew Cunanan & Lee Miglin
The reason Andrew Cunanan murdered real estate developer Lee Miglin is uncertain, and it's not any more clear after the third episode of The Assassination of Gianni Versace. "A Random Killing" moves through the events preceding the crime and its aftermath, but does not truly answer the most pressing question: why did Andrew Cunanan kill Lee Miglin?
The episode leaves it for viewers to puzzle out, but in real life, Cunanan's motivations are similarly mysterious. The police deemed the murder a crime of opportunity, according to the Chicago Tribune. After killing Miglin, Cunanan left with his car, several items of clothing, $2,000 in cash, and some gold coins from the safe. Cunanan would later try to pawn one of Miglin's coins in Miami prior to his murder of Versace.
But that doesn't seem to account for the grotesque violence of Miglin's death. Maureen Orth's Vulgar Favors recounted the horrifying details: Miglin had been bound and gagged with a glove, his head wrapped in tape like a mummy. He had been beaten and stabbed. His neck was partially severed and all of his ribs had been broken. Cunanan's fourth victim, William Reese, was also reported as a crime of opportunity: Cunanan needed his truck, so he shot Reese in the head and stole it. Cunanan did not torture Reese like he did Miglin, and that makes it seem like perhaps there was something more personal about Miglin's murder.
That is pure speculation, however, as is the scenario presented in The Assassination of Gianni Versace. "A Random Killing" posits that Cunanan and Miglin knew one another, implying that Miglin was a closeted gay or bisexual man who had hired Cunanan, a sex worker, several times before. Initially, their interactions played out like the sex work viewers saw Cunanan engage in in the second episode of the series. However, the dominance and submission play quickly took a violent turn.
Before killing Miglin in the episode, Cunanan confessed to his two previous crimes (of friend Jeff Trail and ex-boyfriend David Madson) and remarked that murder wasn't what anyone would have expected from him, a young man known for being cultured and intellectual. He also talked about wanting to reveal Miglin's orientation to the world through the manner of his death, leaving his body surrounded by gay pornography and wearing more traditionally feminine underwear. Cunanan wanted to disgrace Miglin. He wanted to destroy Miglin's legacy, an idea upheld by the fact that he later burned the plans Miglin had drawn up to build the tallest building in the world.
But that's just one theory. The show appears to be exploring Cunanan's resentment about his life, as he also struck out at Versace in part because the designer had things Cunanan did not. He was "a man I could have been," as Cunanan remarked to his friend Ronnie in Episode 2. And the show uses real life details to come to these conclusions, such as Cunanan's obsession with wealth and privilege, as well as the manner in which Miglin's body was really found. Vulgar Favors noted that there was pornography found near his body and Miglin was wearing bikini-style underwear.
None of this information really explains why Cunanan did what he did. The Miglin family has always denied that there was any connection between them and Cunanan, with Lee's son Duke recently reiterating that stance to ABC 7 Eyewitness News. There is no indisputable evidence to suggest Lee Miglin was involved with men or knew Cunanan specifically. The only evidence there is points toward Cunanan killing Miglin for his car and his money, even if that means there is a lot left unexplained about the murder itself.
Check out Romper's new video series, Romper's Doula Diaries:
Watch full episodes of Romper's Doula Diaries on Facebook Watch.