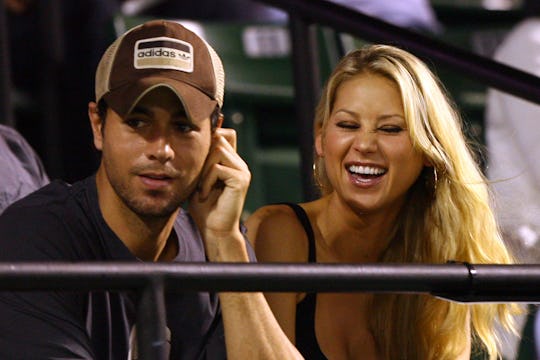 Al Bello/Getty Images Sport/Getty Images
Why Did Anna Kournikova & Enrique Iglesias Keep Their Reported Pregnancy A Secret?
On Monday, news broke that Enrique Iglesias and Anna Kournikova had reportedly become parents to twins, leading the world to respond with a collective, "Wait, what? She was pregnant?" While many are wondering why Kournikova and Iglesias hid their reported pregnancy, it's not all that surprising when you look at the history of their relationship. Turns out that while the former tennis pro and the pop star are naturals in the spotlight, they really value their privacy, and prefer to keep the press guessing when it comes to their personal lives.
According to TMZ, Iglesias and Kournikova had a boy and a girl over the weekend, and reportedly named the twins Nicholas and Lucy. And while many fans are over the moon for them, they're also incredibly impressed with the duo's ability to keep this reported pregnancy under wraps for nine whole months.
The duo first met in one of the most public ways possible back in 2001, according to E! News, when Kournikova played a starring role in Iglesias' music video for "Escape." If you were a young and fairly innocent teenager like me back then, you might remember their steamy make-out on a bathroom sink (and then in a parked car) as an... illuminating experience. Kournikova and Iglesias apparently found it illuminating too, and soon turned from a music-video couple into a real-life one.
But as the years went on, they went about their couplehood a little bit differently from many other Hollywood stars. They gave no gushing interviews about their true love, graced no magazine covers together while staring dreamily into one another's eyes.
In fact, they have never even confirmed or denied if they were married, although back in 2004, Kournikova showed up to play at the World Team Tennis match with a gigantic diamond ring on her finger, according to People. (She later replaced it with a simpler band.) But Kournikova also told People in 2008 that she was "never getting married," and Iglesias at one point told a Swedish reporter that they had wed and then gotten divorced, before representatives clarified that he was joking, according to People.
There's barely a trace of them together on social media. In Kournikova's Instagram, for example, you have to go all the way back to June 2016 to find a photo featuring Iglesias, even though she posts pictures of her dogs and of her fitness regimen relatively frequently.
The couple just likes their privacy. As Iglesias told E! News:
For me, my personal life, I do try to keep it as private as possible, because I need that balance. When I go home, back home, I want to make sure that whatever goes on in my house is just for me and my loved ones... I need that.
He did say, though, in the same interview with E! News, that he's not surprised by people trying to find out more about his life, continuing:
I think it comes with the territory. I understand why people ask, "Are you married? Do you have a girlfriend? Do you have kids? Do you have kids that we don't know about?"
Some fans might be wondering what the point is of going through all the effort to keep private lives so secret. But the Hollywood rumor mill can be strong and ruthless. It makes sense that Iglesias and Kournikova would want to keep some of the most special things in their lives sacred, just between the two of them and the people they love, rather than offering them up to be picked apart online by both enthusiastic fans and cruel trolls alike. And if it was so important to keep the state of their relationship private, no wonder they felt it to be even more important to protect a reported pregnancy.
So congratulations to the reported new parents, and I hope they're able to get plenty of quality time with their babies — out of the spotlight.
Check out Romper's new video series, Romper's Doula Diaries:
Watch full episodes of Romper's Doula Diaries on Facebook Watch.