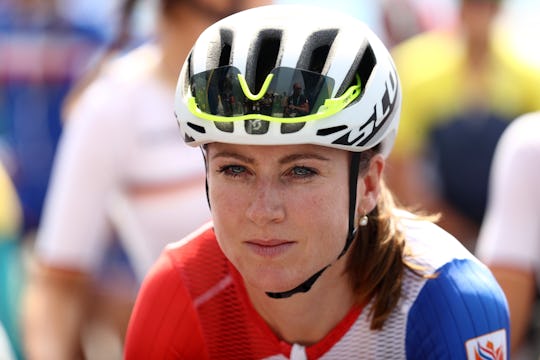 AFP/AFP/Getty Images
Why Did Annemiek van Vleuten Crash? Were Dangerous Conditions To Blame?
On Sunday, Dutch cyclist Annemiek van Vleuten suffered a horrifying crash near the end of the women's road race in Rio. She was leading the pack when her bike flipped, and viewers around the world were rocked by her accident. Although initial reports have reported that van Vleuten is conscious and on her way to the hopsital, why did Annemiek van Vleuten crash? She went from seeming fine one moment to being immobile on the side of the road the next, and race organizers are being criticized for the allegedly dangerous conditions and setup of the course.
This wasn't the first crash on the Vista Chinesa descent portion of the Olympic road race. The day before, while he was leading the men's road race, Italian cyclist Vincenzo Nibali broke a collarbone during the same descent. Several others — Australian Richie Porte, British Geraint Thomas, and Colombian Sergio Henao — crashed out during the downhill portion, as well.
While cycling is inherently a precarious sport, some critics are saying the Olympic road race course was overly dangerous. "I went down and had a look at the course and saw those edges. We knew it was way past being technical; it was dangerous," former Olympian cyclist Chris Boardman told the BBC on Sunday. "The people who designed the course and said what safety features were needed had seen it as well and left it."
This video of van Vleuten's crash may be disturbing to some:
"I'm surprised someone signed off on a course this hard," competing New Zealand cyclist George Bennett told NBC on Friday. "It's hectic, it's dangerous. There are slippery roads, patches of oil, difficult corners. It could send you home early. ... We've never seen a course like this and probably won't see one like it again."
British cyclist Lizzie Armitstead — who competed in the same race as van Vleuten — previously told Cycling Weekly that the course was "brutal" and "really, really difficult." American cyclist Megan Guarnier told NBC, "It's the hardest course I've seen in a single-day race."
Van Vleuten's teammate, Dutch cyclist Anna van der Breggen, ended up winning first. "I saw her lying there, it didn't look good at all," Van der Breggen said, according to BBC. "I realised I was first in the team and had to chase. We knew we had to do it."
Luckily, Sunday marked the last day of riders' use of the crash-marred Fort Copacabana course. One cycling event remains for both men and women — the time trial — but it will take place on the Pontal route.