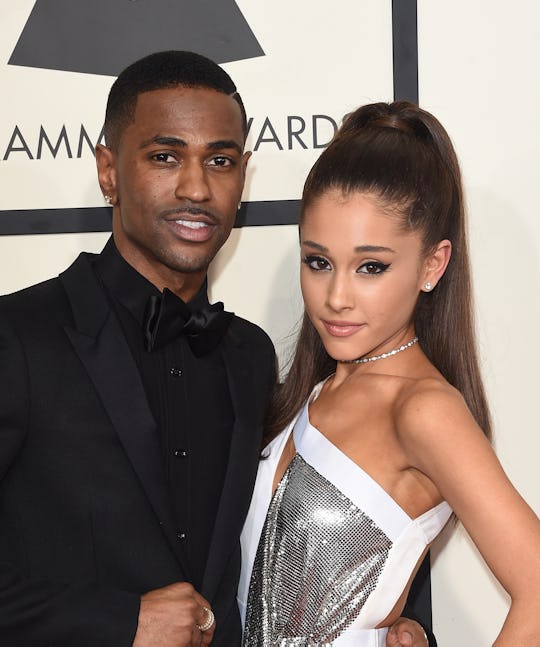 Jason Merritt/Getty Images Entertainment
Why Did Ariana Grande & Big Sean Break Up? They've Both Moved On
Last year, Ariana Grande and Big Sean attended the Grammy Awards as a couple. On Monday night, they won't be walking the red carpet together. Why did Ariana Grande and Big Sean break up? They haven't addressed it publicly, but both stars have been clear that they're moving on.
Grande and Sean officially appeared together for the first time at the 2015 GRAMMYs, according to Entertainment Tonight. The two were together for eight months total, splitting in April. When Grande and Sean broke up, Us Weekly published a statement from their reps:
They both deeply care for each other and remain close friends. We kindly ask that the media respect their wish for privacy regarding this personal matter at this time.
That friendship appears to have made the breakup easier. In an interview with V Magazine, Grande told Scream Queens producer Ryan Murphy that she didn't have a hard time moving on from her recent high-profile split: "I'm good at making the best out of something. It also wasn't that hard for me, because we were friends. So it's chill." Grande said that fans wouldn't find breakup anthems on her new album since she'd already worked through her emotions by the time she'd started writing. Though she was reluctant to offer her take on breakups, Grande did offer advice:
I'm not going to pretend I have great breakup advice. It's hard. Good luck. You'll be fine. You don't need anyone. It's nice to have someone that makes you happy, but it's nice to be happy on your own as well. You don't need to depend on another person for your happiness. That person can contribute to your happiness, but you're two whole beings on your own. You can make each other glow, like you just ran through one of those rainbow stars in Mario Brothers, but you're still completely capable, sufficient, and beautiful, and can be happy on your own. That's my breakup advice! There you go! I got it!
Sean seemed to be taking a similar low-key approach to the split. When Entertainment Tonight caught up with him at the 2015 BET Awards, Sean said that relationships "just happen," adding, "It's no mistakes in life, though — only lessons." Though Grande and Sean seem to be doing well apart now, Grande has been adamant about not allowing herself to be defined by her romantic life. Grande published an essay on relationships and activism on social media in June, Billboard reported. The singer stood up against those who attempted to tie her identity to Sean's:
what I meant when I said what I said about not being Sean's ex is that I am tired of living in a world where women are mostly referred to as a man's past, present or future PROPERTY / POSSESSION. I... do not. belong. to anyone. but myself. and neither do you.
Single or not, Grande is a great example of a woman taking charge of her own image and cementing her independence.