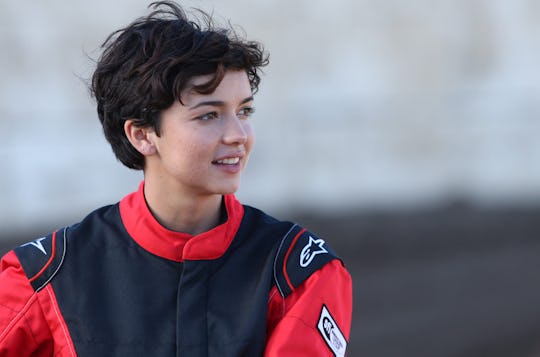 ABC
Arie Just Eliminated Everyone's Favorite 'Bachelor' Contestant & It'll Leave You Shook
As hard as it is to believe, next week is hometown dates on The Bachelor. This means that Arie had to make some hard decisions to whittle down the number of contestants, and unfortunately Bekah didn't make the cut. So why did Arie eliminate Bekah on The Bachelor? Her last date started as a group date with Kendall and Tia, then became a two-on-one with Tia that ended up in her elimination.
Bekah was a controversial contestant even before the season began. When Bekah's ABC bio dropped, her age was not listed — leading Bachelor Nation to speculate whether she was even old enough to be on the show (the minimum age is 21). After some snooping, it was confirmed that Bekah was 22, which is still 14 years Arie's junior. As is the case on The Bachelor, it became a point of discussion on the show. When Arie found out Bekah's age, his jaw actually dropped... which was probably put on for the cameras, but his hesitation about their relationship started from there.
Arie expressed concerns on that one-on-one date whether Bekah was ready for marriage and whether she'd want to settle with him. She assured that this was what she wanted, and he gave her that rose at the time.
Well, that was when hometowns weren't in sight, so Arie's tune has changed. On Monday night's episode, he had to let go of three people. Earlier that episode, Jacqueline went home by herself after being unsure if she was ready to marry Arie — which in the real world is totally reasonable because they've known each other for around a month at this point, but on The Bachelor this means that she really is not committed. Then, Arie eliminated Seinne after a one-on-one date they had together. It came down to Kendall, Tia, and Bekah on a group date.
Arie gave the first of two roses to Kendall, so it was just down to Tia and Bekah. Tia got a little salty that it was between the two of them, so she took Arie aside to express some concerns about Bekah. It was about — this is a no brainer — her age. Tia wasn't sure if Bekah is ready for marriage or would end up "breaking Arie's heart" (as if none of the older Bachelor winners break off their engagements, but I digress). Tia, on the other hand, seems like she can't wait to say her "I do's," so she wanted to let Arie know she doesn't think Bekah is the same.
Arie went to talk to Bekah, who started crying at Tia's assumptions. He didn't eliminate her right then, but later on in the date,he gave the last rose of the night to Tia. So why did Arie let Bekah go? She was arguably the best contestant this season. OK, my bias is showing through, but any contestant who claimed to be on a pot farm is awesome in my book. The reason why is pretty obvious, and has been part of Bekah's reputation since before the show began: her age. Arie could never be too sure about how serious she was about getting married at the end of all this, especially because of the 14-year age difference.
Bekah was upset by this, but honestly? Judging by Bekah's Instagram, she's doing just fine nannying in Los Angeles. I look forward to seeing her on the Women Tell All and After the Final Rose. I'll also start my campaign to see her as next season's Bachelorette but I won't hold my breath... because of her age. Regardless, though, maybe there's Bachelor in Paradise in her future... and if not, I'm sure she's perfectly content living her life in LA.
Check out Romper's new video series, Romper's Doula Diaries:
Watch full episodes of Romper's Doula Diaries on Facebook Watch.