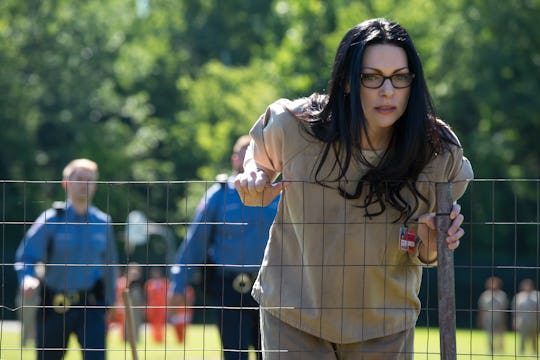 JoJo Whilden/Netflix
Why Did Aydin Try To Kill Alex On 'Orange Is The New Black'? Piper's Ex Is In Danger
When we left off with Orange is the New Black Season 3, Piper Chapman's ex, resident bespectacled bad girl Alex Vause, was in dire straits. After spending the entire third season paranoid and tense about a seemingly imminent attack, Aydin, an assassin sent by her former drug kingpin boss posing as a Litchfield corrections officer, cornered Alex in the greenhouse. There was no doubt that he was intending to kill her, since he pointedly took advantage of the chaos during the "lake escape" — the few moments when the prison fence came down and the other inmates made a break for the lake, seeking a few minutes of fresh air solace.
Naturally, viewers were panicked and up in arms after the fan-favorite character's life was left hanging in the balance for a full year until the beginning of Season 4. Alex's portrayer, Laura Prepon, even took to Instagram to show that she was still part of the cast or, at the very least, not dead just yet. But the show played coy with Alex's fate, even leaving her out of the Season 4 trailer released back in May. Now that preview photos have been released showing a very much alive Alex, we can rest easy — for now, anyway. While Alex appears to have survived Aydin's attack at the end of Season 3, her life could very well still be in danger.
For those in need of a refresher, you might recall that Alex actually managed to get out of prison, briefly, after testifying against the terrifying drug lord (and her and Piper's former boss) Kubra Balik back in Season 2. Unfortunately for Alex, due to a technicality, Kubra wound up evading jail time. As we know, Alex's respite from prison was short-lived, thanks to an angry and vengeful Piper conspiring to rat out a frightened and gun-toting Alex for her plan to skip town to evade Kubra — a violation of Alex's parol. Alex and Piper kissed and made up after Alex landed back in Litchfield in the third season, but soon enough, Piper grew bored of Alex's paranoid, fearful behavior. Piper left Alex to fend for herself, choosing to focus on new inmate Stella and her burgeoning prison business instead, as Alex grew increasingly neurotic.
Given the events of the third season finale, we know that Alex wasn't wrong to be paranoid — she'd just mistakenly pinpointed the wrong person as her potential attacker, spending much of the season avoiding the twitchy and strange inmate Lolly, who was definitely acting suspiciously. Once it was revealed that Lolly was suffering from paranoia and possibly psychosis (not tailing Alex in order to assassinate her), it seemed like Alex was in the clear. Until Aydin showed up in that prison greenhouse in the closing moments of the season, anyway.
If Aydin and Alex somehow both made it out of that greenhouse alive, we can bet that the drug lord's assassin won't stop trying to kill her. If Alex ended up killing Aydin while fighting off his attack, it's very likely that Kubra would simply send in another undercover assassin to take his place and finish Alex off. It seems like either way, while her ex is enjoying the high life as the panty-selling queenpin of Litchfield, Alex might be fighting for her life throughout Season 4.