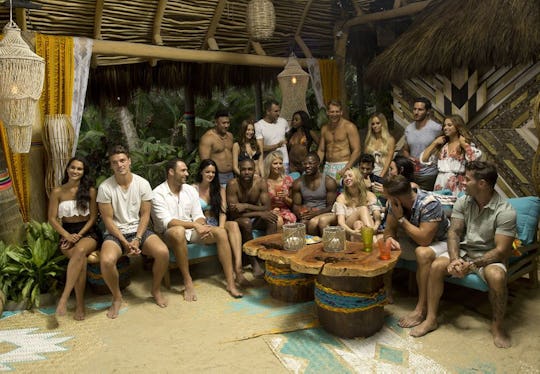 Paul Hebert/ABC
'Bachelor In Paradise' Shut Down Production For An Important Reason
Scandal rocked the premiere of Bachelor in Paradise, which, if you had been following the news over the past few months, shouldn't come as much of a surprise. Though, after a long season of The Bachelorette, and many news reports about what exactly happened in Mexico, you may need a refresher as to why Bachelor in Paradise stopped filming.
The incident in question has been so heavily reported on that it almost feels like the story has been lost in the coverage. In June, during the filming of Bachelor in Paradise, allegations began circling that alluded to alleged sexual misconduct occurring on set. Initial reports named Corinne Olympios and DeMario Jackson as two potential cast members involved in the alleged incident. When Warner Brothers, the production company, got wind of the allegations, it shut down production.
Warner Bros., released the following statement to Romper at the time of the investigation that followed the production shut down:
We have become aware of allegations of misconduct on the set of Bachelor in Paradise in Mexico. We have suspended production and we are conducting a thorough investigation of these allegations. Once the investigation is complete, we will take appropriate responsive action.
Just over a week after reports surfaced, production was set to resume, following an investigation that found no misconduct. DeMario repeatedly denied the accusations, while Corinne's lawyers looked into the allegations with their own investigation. At the end of June, Corinne's lawyers ended their own investigation into the incident, stating that she would not be returning to Paradise, along with the following:
In light of the overwhelming amount of misinformation that has been spread in the media, I want to clarify a few things. My intent over the past few weeks has been to learn and understand what happened on June 4. While I never filed complaints or accusations against anyone associated with Bachelor in Paradise, my team and I felt it was very important to be thorough in getting to the bottom of what had occurred.
I felt victimized by the fact that others were judging me through conflicting and unsubstantiated reports, while I myself had no recollection of the events that transpired.
My team's investigation into this matter has now been completed to my satisfaction. I am also happy about the changes that have been made to the production of Bachelor in Paradise. While I am extremely grateful for the opportunity to have been a participant on The Bachelor, and while I was invited to return to Bachelor in Paradise when production resumed, I respectfully made the decision not to return.
I understand the media's interest in this story, and I greatly appreciate my fans' concerns for my well-being, but I think it is best if I keep any further thoughts private for now.
While we have only seen half of the "production shut down" on Paradise in the premiere, it appears that the second night of Week 1 will start back up with the cast returning to Mexico with one major question looming: Do they want to remain in Paradise? We'll have to watch to find out.