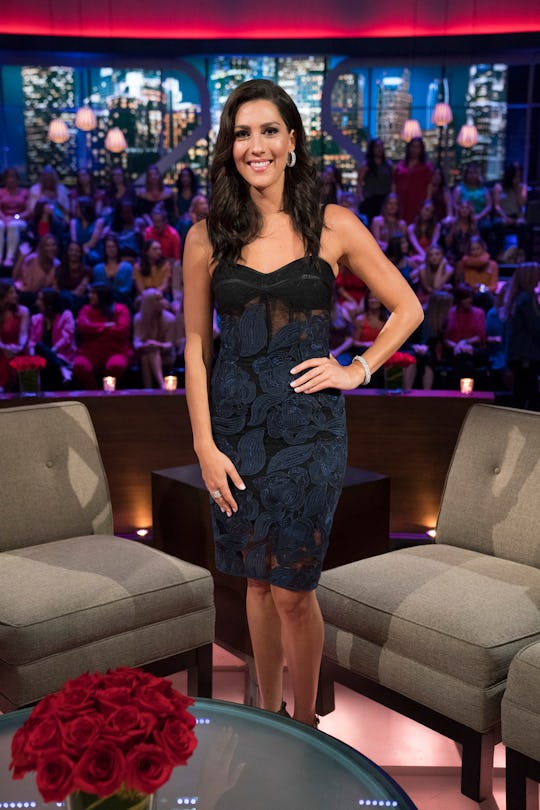 Paul Hebert/ABC
Becca's Appearance On 'Bachelor In Paradise' Is Difficult For Colton
Shows in The Bachelor franchise are not above bringing back old contestants to shake things up. On Bachelor in Paradise Monday night, Becca Kufrin made a surprise entrance that threw Colton off guard. She didn't outright say her reason for showing up in Mexico, but fans are definitely wondering why Becca is on Bachelor in Paradise and how long her little cameo will last. The last time Colton saw her, Becca broke up with him and sent him packing after hometown dates. So the whole thing was difficult for him to handle.
According to Becca on BiP, she sent him home because she could see a future with the other remaining men more than she could with Colton. But still, Colton may not have gotten the closure he needed. Enter Becca in Paradise. Obviously bringing back the whole Tia/Colton/Becca dynamic is dramatic and interesting, but I also like to think that Becca went on BiP to help Colton get the closure he needs to totally move on.
Colton said himself that he never got the closure he needed and that bringing Becca home to meet his family mere weeks before going to Paradise was still on his mind. While seeing Becca again might stir up some old and confusing feelings for him, it might also be what Colton needs to move forward this season.
In five seasons of Bachelor in Paradise, it doesn't look like another previous Bachelor or Bachelorette has made an appearance like this. There have been BiP contestants who went on to be given starring roles in other shows in the franchise, but I can't remember the last time a Bachelorette came to Paradise just to talk to a couple of the contestants. Of course Becca's situation is a little more unique. She became good friends with Tia while they were on The Bachelor together and during her season of The Bachelorette, there was some history between Tia and Colton. But as a whole, this situation is fairly unprecedented.
The best case scenario that could result from Becca's appearance on BiP is that Colton will work through his feelings and move on in a healthy way. The worst case scenario is that he'll realize he needs to go home instead. But since I refuse to believe that we're going to be deprived of more Colton this season, I'd wager that it's the former. Becca likely came on the show to help him work through his feelings after leaving The Bachelorette. And if anyone can do it, it's probably her.
At the July "Men Tell All" taping for Becca's season of The Bachelorette, Becca told Us Weekly that she planned to watch BiP to support both Tia and Colton, as well as all of the other contestants who she's still close to. "I will a thousand percent watch," she said. "You know, all of my girlfriends are on it, so, of course, I need to watch and support them and cheer them on. And if [Tia and Colton] got back together and found love, then I would be happy for them because they both deserve that." She also said that she and Tia were able to move on from it all and remain friends, so BiP fans need not worry that she's there just to cause drama for Tia.
Even if Tia and Colton don't get together by the end of the season, Becca's goal was likely to come on the show to help her friends. It may not have been her idea, but even if that's the case, it certainly can't hurt.