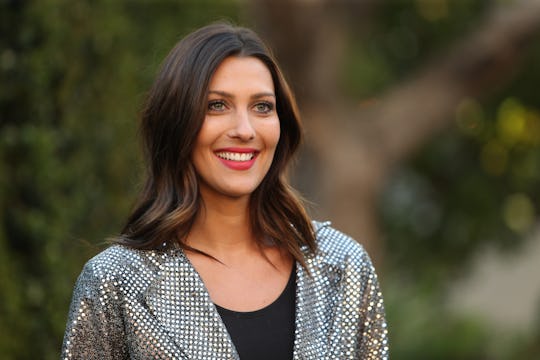 Paul Hebert/ABC
This Is Why Things Didn't Work Out Between Becca & Ross Prior To 'The Bachelor'
The moment you've all been waiting for all season long has finally arrived, Becca's (very attractive) ex-boyfriend made it all the way to Peru to try and win her back and she shut him down, clearly having gone down this road with him before. So why did Becca and Ross break up? Their issues go back way farther than her time on The Bachelor and she's not going to start things up again.
Like many ex-boyfriends and romantic comedy leads before him, Becca's ex-boyfriend Ross decided to show up at the eleventh hour in an effort to win the love of his life back with a grand gesture and some flowers. It did not work. The show has been teasing this moment for a long time, but I feel like I could have predicted the outcome by myself. Ross believed that even after having been broken up for over a year, Becca would fall into his arms after he showed up in Peru. But clearly, Becca and Ross broke up for a reason, and no amount of last-minute plane tickets can fix that. This is how the real world works, buddy. Sometimes you get dumped and you have to move on.
On Becca's first date with Arie, the first one-on-one date of the season, Becca opened up to Arie about her ex-boyfriend. It was a seven-year relationship, and Becca's ex helped her through the toughest time of her life, the death of her father. But the relationship ended, and judging by her participation in the show, Becca was beyond ready to move on with her life and find someone new. Apparently Becca's ex, Ross, did not quite understand what this meant. Because he literally flew to Peru without telling Becca. Maybe the meeting was staged, but Becca's face showed that she was both shocked, and somehow unsurprised. Something tells me she's had this conversation before.
So why did Becca and Ross break up? During their emotional conversation they never went into specifics, but it was clear right from the beginning that Becca was ready for it to be over. For starters, she refused to let Ross into her hotel room when she answered the door. As in, she literally said, "I'm not going to let you in," before directing him to a set of stairs where they could talk. I can't imagine going through a whole debrief of their relationship on the show, so luckily Becca was able to sum up why she wasn't leaving with Ross.
Without going into specifics, Becca basically said that their relationship wasn't good for either of them, and that she wasn't surprised that Ross had shown up because he seems to think that life should work out like a movie. She said, "This is so you. You're holding on to a shred of hope from years ago." She continued by saying, "We have both changed so much and you don't wanna know who I am anymore and I don't know who you are anymore. I didn't know who you were towards the end of our relationship." The most explicit thing she said was, "What we had wasn't healthy for so damn long," before reiterating that she didn't ever want to go back to that.
I know that the idea of the guy moving heaven and Earth and going to the ends of the world to win back a woman after a breakup is supposed to be romantic. But sometimes, it's really best just to let these things go.
Check out Romper's new video series, Romper's Doula Diaries:
Watch full episodes of Romper's Doula Diaries on Facebook Watch.