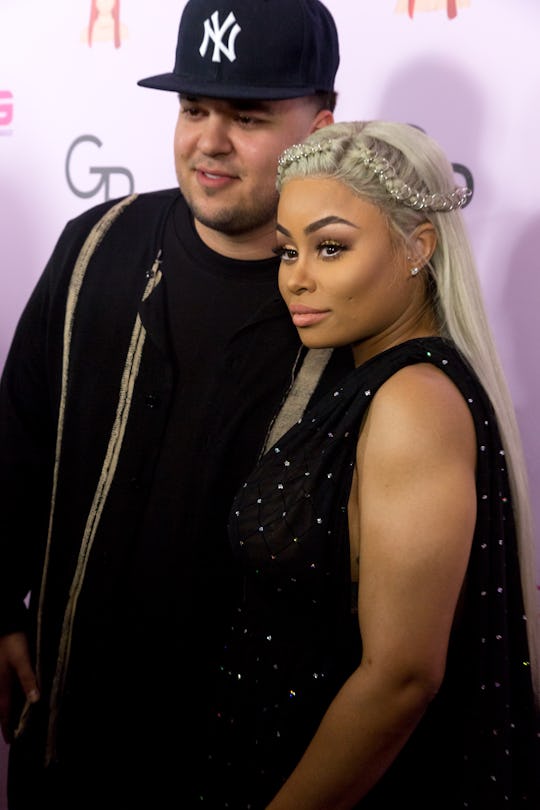 Greg Doherty/Getty Images Entertainment/Getty Images
Why Did Blac Chyna Have A C-section? They Welcomed A Baby Girl
These past few months Blac Chyna and Rob Kardashian have been anxiously awaiting the arrival of their first child together. Despite ups and downs in their relationship, the couple has been committed to preparing for the baby's arrival. Well, that day is finally here: Chyna gave birth to a healthy baby girl on Thursday morning! But why did Blac Chyna have a C-section?
Chyna's daughter, named Dream Renee Kardashian, was born at 9:18 a.m. Pacific Time and weighed 7 pounds and 5 ounces, E! News reported. "She is gorgeous and has tons of hair!" a source close to Rob and Chyna told E! News.
Chyna had a scheduled C-section at Cedars-Sinai Medical Center in Los Angeles, the same hospital where Kim Kardashian gave birth to her son Saint West. The reality star and her husband, Kanye West, reportedly spent $4,000 a night for the hospital suite, according to TMZ.
After arriving at the hospital Thursday morning, a source close to Rob and Chyna spoke with People Magazine. "Rob looks very excited. They are preparing [Chyna] for the C-section. There is a film crew with them."
Chyna apparently had a C-section when she and her ex Tyga had her first baby, King Cairo, who is now 4. A press release for the "Rob & Chyna Baby Special," which will air on E! Dec. 18 at 8 p.m., hinted that Chyna and Rob may have decided to have a C-section for Dream because Chyna had had one before.
Although Rob and Chyna have had turbulent times in their relationship, they face many important decisions head-on as the couple prepares for the birth of their baby. Together, they decide whether or not it's best for Chyna to have another c-section, and where the new family should live after the baby is born.
More than 90 percent of women who have C-sections during their first birth have C-sections the next time they give birth as well. This is because there are risks to giving birth vaginally after a C-section, including uterine rupture, although recent studies have shown that vaginal births after a C-section are likely just as safe as a repeat Cesarean, according to the American Pregnancy Association.
Chyna has been very open about her pregnancy and has been preparing for baby No. 2. On the podcast "Loveline With Amber Rose," Chyna said she plans to eat her placenta after giving birth:
Just reading and knowing the pros of breast-feeding for your baby, and just recently I found out some new, cool stuff about not cutting the cord and sending your placenta; you can get these pills to take them after to make you and the baby healthy.
Chyna has said that she wanted to gain 100 pounds during her pregnancy. But that doesn't mean being healthy isn't important to her. On Snapchat, Chyna wrote that she "started eating more clean and walking" during her pregnancy, Us Weekly reported. Chyna has also been confident about her pregnancy body, posting pictures on Instagram and posing for Paper magazine.
Congratulations to the proud parents!